September
Iva made an appearance on Sydney's "Sunrise" morning show on September 24th, replacing the newly wed Nick Bennett as the show's music consultant. Iva presented several album reviews, including the latest by LeAnn Rimes and Beck. He also took some time to promote the remix album Meltdown.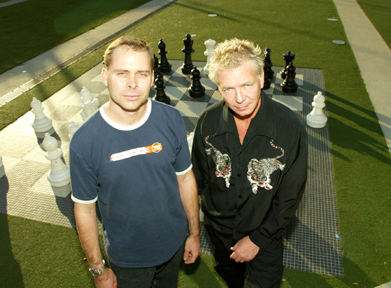 "Lay Your Hands On Me" was released to the public on September 30th, 2002. The song did quite well on radio, with an extra effort to promote the song being made by NOVA in Sydney. Jimmy Z, a DJ on NOVA, maintains his own Dance chart and "Lay Your Hands On Me" had a fantastic showing! The song also hit #13 on the ARIA Dance chart! Warner Music released an e-card to promote the remix album Meltdown, which allowed the listener to hear "Lay Your Hands On Me" in streaming audio. As we go to print, that e-card can still be found here. The CD single has four tracks, with several mixes included, and was released by Warner Music Australia under the catalog number of 0927491532. Congratulations to Iva and Steve Peach (pictured at left)!

October
The long anticipated remastered Icehouse albums were released in waves, starting with Icehouse and Primitive Man (all of the remastered CDs are now available). Fans were quick to note that all of the hard work that Iva put into remastering the albums had really paid off! The sound quality on the remasters is superb, with some stating that it was like hearing the songs for the first time. To add the icing to the cake, each CD contained additional tracks that had not been part of the original track listings. Some of these tracks had not been previously available on CD. The packaging for Icehouse and Primitive Man also had an extra feature - a limited edition of each CD had a purple colored insert instead of the standard silver that came with later albums. With the release of the remastered back catalog pending, Iva sent this message to the Icehouse online discussion list:
Dear Friends,
As you are aware, the catalogue of eight albums is due for release shortly. The remastering, inclusion of additional tracks, and the restoration of artwork has been a huge task for me and there have been a number of delays along the way resulting in the moved release dates.


I wanted to take this opportunity to thank you for the invaluable contribution you have made to this process by way of the Poll conducted by Kristin and Cheryl, and also to explain the way in which I arrived at my final decisions regarding the bonus tracks.


Needless to say, there is far more material than will practically fit on a CD format and naturally I have not been able to include them all. I daresay that many disappointments will result from this but it was never going to be possible to please everyone's requests. I should add at this point that there is certainly material enough for a collection of rarities in the future but the current undertaking should never have been regarded as an attempt at producing collections of rarities.


To start with I have had to take into account advice from a number of people involved with this process. Their perspective is valuable by virtue of the fact that it has more distance from the recordings than does my own.


Most importantly I have been constantly reminded that these new editions of the albums will become 'the definitive' versions of the albums, i.e. they will not be viewed as collections of curios and rarities but rather will define the album from this point forward in time.


I have been reminded that, although there might be a temptation to include things which are interesting to the keenest listeners, they should not be included if their quality was below the standard of the existing album tracks.


Quite a number of tracks which fulfilled other requirements (i.e. they were related to the albums as b-sides and so on) failed to meet this quality test and therefore, as tempting as they were, they have not made the final track listing.


I have tried to focus on any tracks which had an immediate relevance to the album in question. Therefore I have chosen single b-sides, selected extended mixes, demos, and a number of 'live' tracks which were also related by virtue of the fact that they were used as b-sides.


I've also attempted to include any glaring omissions which may have only been available on vinyl or select collection CDs. Examples of these would be the original single version of "Love in Motion" which in reality belongs to the Flowers period and has been included on that album. Similarly "Touch the Fire" and "Jimmy Dean" are directly related more to the Man of Colours album than to Code Blue. They, of course, were only available on the compilation CD Great Southern Land. I've included them on Man of Colours because it was the same creative team (including David Lord as producer), the same studio, songwriting team and time period which produced these recordings.


I have used, as a starting point template, the track listing from the original Australasian versions. These were always the definitive versions of the albums and any variations of the albums in other territories were generated for the specific requirements of those territories. With one exception (Primitive Man - Uniform German 7") I have automatically included the bonus tracks which were on the first edition CDs of each album.


So I hope that there has been some 'method in my madness' in selecting things for each album.


The Poll tallies, which Kristin and Cheryl collected for me, were invaluable in two major ways.


Firstly they produced a definitive list immediately of any tracks which were eligible for inclusion and their relationship to the albums. This was a perfect place to start compiling everything that might be needed.


More importantly, though, in situations where all requirements had been met by a number of tracks and some could not be included due to the time limitations of the CD, I referred to this Poll in order to establish the most popular of these tracks. Thus I was able to refer to the way in which you had prioritised the tracks in question.


I hope that you find the collection of bonus tracks appropriate. It has been a difficult process and I have been mindful of your requests during the whole process.


The track listing of the albums follows, (*) denotes bonus tracks.


Thank you once again for your great assistance.


Iva D

Flowers - ICEHOUSE
1. Icehouse
2. We can get together
3. Fatman
4. Sister
5. Walls
6. Can't help myself
7. Skin
8. Sons
9. Boulevarde
10. Nothing to do
11. Not my kind
12. Send somebody
13. All the way
14. Paradise lost (instrumental)
15. *Love in motion (original Australasian single)
16. *Goodnight, Mr. Matthews (B side to original Australasian "Love in Motion" single)
17. *Can't help myself (original Australasian 10" single)

Primitive Man
1. Great Southern Land
2. Uniform
3. Hey, Little Girl
4. Street Cafe
5. Glam
6. Trojan Blue
7. One by One
8. Break these chains
9. Mysterious thing
10. Goodnight, Mr. Matthews
11. Over the line
12. Glam (12" Version)
13. *Uniform 12" (German Version)
14. *Street Cafe (Bob Clearmountain single mix)
15. *Love in motion (Primitive Man re-recording)
16. *Can't help myself (live b-side)
17. *We can get together (live b-side)

Sidewalk
1. Taking the town
2. This time
3. Someone like you
4. Stay close tonight
5. Don't believe anymore
6. Sidewalk
7. Dusty pages
8. On my mind
9. Shotdown
10. The mountain
11. *Java (instrumental)
12. *Dance on
13. *Dusty pages (single version)
14. *Taking the town (extended mix)

Measure for Measure
1. Paradise
2. No Promises
3. Mr. Big
4. Angel Street
5. The Flame
6. Regular Boys
7. Cross the Border
8. Spanish Gold
9. Lucky Me
10. Baby, you're so strange
11. Too Late Now
12. Into the Wild
13. *Just a Word
14. *The Perfect Crime
15. *The Flame (live)
16. *No Promises (live)
17. *Sister (live)

Man of Colours
1. Crazy
2. Electric Blue
3. Nothing too serious
4. Man of Colours
5. Heartbreak Kid
6. The Kingdom
7. My Obsession
8. Girl in the moon
9. Anybody's War
10. Sunrise
11. Crazy 12"
12. Crazy (midnight mix)
13. *Shakin' the cage
14. *Over my head
15. *Touch the fire
16. *Jimmy Dean
17. *Electric Blue (Extended mix)

Code Blue
1. Mercy on the boy
2. Harbour Town
3. The Great Divide
4. Wind and Sail
5. Miss Divine
6. Big Fun
7. Knockin' 'em down
8. Miracle Mile
9. Where the river meets the sea
10. Anything is possible
11. Jericho Bay
12. Charlie's Sky
13. *Big Fun (The Riddler mix)
14. *Miss Divine (Spellbound mix)
15. *Where the river meets the sea (original demo)

Big Wheel
1. Big Wheel
2. Satellite
3. Goodbye, Valentine
4. Judas
5. Invisible People
6. Feed The Machine
7. Cadillac
8. Sam The Man
9. Stolen Guitar
10. The System
11. *Orbital Line
12. *Turn It Round
13. *Driving Me Backwards
14. *Blank Frank
15. *Satellite (The Ex-static Mix)

The Berlin Tapes
1. Loving The Alien
2. Sister Europe
3. Heaven
4. Complicated Game
5. Berlin
6. All The Way
7. All Tomorrow's Parties
8. Let There Be Love
9. Disappointed
10. Really Good Time
11. At Night
12. Love Like Blood
13. Heroes
14. *Be My Friend
15. *Being Boiled
16. *How Do You Sleep?
17. *Giant And Child Fugue
18. *Pas De Trois
Iva also had this to say about the artwork for the remastered catalog:
We have, wherever possible, attempted to remain as faithful to the original Regular CD artwork (and Massive where applicable) in all cases.


However, although we have used the original booklets as templates we have scanned the images from more original artwork sources (rather than using scans of the CD booklets).


The result of this is that the images are much cleaner generally.


I have included lyrics to all songs (including bonus tracks), which appear on each album. The Berlin Tapes is the exception as the cover never included lyrics and we don't have the copyright clearance to reproduce them. These songs are not our property.


The lyrics and credits have been 're-set' and a great number of errors, which occurred on the original CD booklets, have been eliminated. In a number of instances this has meant that the original text artwork was not used. We have, for example, chosen a comparable font to replace the crayon hand written text on the Man of Colours booklet. Anyone who has the original Regular CD will acknowledge that the hand written text, which was derived for the original 12" vinyl, did not translate at all well once it was reduced to a size suitable for the CD booklet. Apart from the fact that the lyrics contained a number of errors they were very nearly illegible in the final CD booklet.


Similarly we have attempted to make the booklets as practical as possible generally. The lyrics and credits of Code Blue have been set on cleaner backgrounds for this reason (i.e. without the newspaper detail. This detail was also originally designed for the larger 12" vinyl format).


All the albums contain a series of common elements, which define them as a 'set' or 'collection'. This suggestion was made early in the process and was unanimously supported. The result is that these 're-mastered' versions distinguish themselves as both THE enhanced versions and as a 'collection of a body of work'. I think you will find the full set of CDs very pleasing in this way.
Iva was invited to attend Sydney's Sleaze Ball on October 7th, 2002. One of the DJs involved with the Ball was Luke Leal and he chose to close his set with "Lay Your Hands On Me." Iva described the feeling as "excellent" to see 8,000 people dancing to "Lay Your Hands On Me!"
Iva also attended the ARIA Awards presented in Sydney on October 15th, 2002.
Meltdown, the collection of remixes done by some of the hottest dance music artists in Australia, was released on October 18th, 2002. The artists involved chose an Icehouse track to mold and spin into their own version. Meltdown received great reviews - here are a few samples:
Chaosmusic:
From the super chilled-out mix of Ivan Gough's "Don't Believe Anymore" to the dub swing of Wicked Beat Sound System's "Love In Motion," Meltdown - The Remixes is a collection of timeless classics revved up and revamped. Not many artists' work could hold up to such treatment, but - together with the obvious talent of the producers and artists involved - it's a testament to Iva Davies' skill as a songwriter and willing experimenter that makes this project so admirable.

Map Magazine:
Icehouse Meltdown
This has got to be one of the greatest albums released this year. Meltdown - The Remixes reintroduces Icehouse and Iva Davies to popular culture in a massive wake up call. Meltdown - The Remixes is a brilliant remix album of classic Icehouse material. It features remixes by Australia's premiere dance artists including: sonicanimation, Infusion, Wicked Best Sound System, Endorphin, [love] tattoo, Josh Abrahams, and more.

Revolver Magazine:
ICEHOUSE
Meltdown- The Remixes
Warner
After a slow start, this collection of classic Icehouse tracks remixed by a who's who of local dance artists, turns surprisingly into quite a treat. The first track, "Don't Believe Anymore," takes way too long to get going, and is an unusual choice to start off what is essentially a great example of how remixes can add some spice to the original tracks. Most of the artists have taken a hefty creative licence and created some songs that stand up on their own. I've said it before and I'll say it again," Lay your hands on me," the new Icehouse track that is also found on this remix CD, is easily the best uplifting song currently doing the rounds on turntables around the country. Infusion have fed "Hey Little Girl" into their computer and emerged with a dark, pumping electro track. A great display of Aussie talent having a little fun with some classic songs.
There is also a great write up about Meltdown and Iva's career on the SongShop site. It is worth going to have a look to read the comments from the artists involved with Meltdown.

The track listings for Meltdown are:
1. Don't Believe Anymore - remixed by Ivan Gough & Colin Snape
2. Love In Motion - remixed by Wicked Beat Sound System
3. Hey Little Girl - remixed by Infusion
4. Street Café - remixed by Smash 'n' Grab
5. Cross The Border - remixed by Funk Corporation
6. Great Southern Land - remixed by Endorphin
7. Electric Blue - remixed by Skipraiders
8. Lay Your Hands On Me - Icehouse vs Speed of Light
9. We Can Get Together - remixed by sonicanimation
10. Can't Help Myself - remixed by beXta
11. Icehouse - remixed by Peewee Ferris & John Ferris
12. Crazy - remixed by Josh Abrahams
13. No Promises - remixed by [love] Tattoo
14. Man of Colours - remixed by Endorphin
Meltdown was released by Warner Music Australia with the catalog number of 0927491542. Warner Music also created a great promotional tool for the Meltdown project. A "virtual DJ" was set up so that fans could do their own mixing and splicing of classic Icehouse songs.
On October 20th, Iva performed a beautiful version of "Great Southern Land" at the Australia Together event. The program was broadcast across Australia and was a touching tribute to the victims of the bombing attack in Bali.

November
Iva performed as part of the house band for Don't Give Up Your Day Job charity event in the Sydney area on November 7th. As well as performing at the show, Iva contributed as raffle prizes a full set of the remastered catalogue and a 12" multicolored vinyl copy of Man of Colours. He also provided the details as shown below:
DON'T GIVE UP YOUR DAY JOB III
Thursday November 7, 2002
Bridge Hotel, 135 Victoria Road,
Rozelle
All proceeds to Father Chris Riley's Youth Off The Streets program

House band:
Iain Shedden
David Holmes
Iva Davies
Graham Kennedy
Bridie King
Peter Kartu
Bruce Allen
Nicole Salisbury
Chelsea Anthon
Paul O'Shea
Geoff Crawley


Judges:
Sarah McLeod (The Superjesus)
Belinda Chapple (Bardot)
David McCormack (Custard/Titanics/David McComack & The Polaroids)

Final list of 'singers':
Jabba (Channel V)
Michael Chugg (Michael Chugg Entertainment)
Daniel Denholm (producer)
Glenn A Baker (Writer/Triple Crown Rock Brain of the Universe)
Arnold Frolows & Kirileigh Lynch (Triple J)
Debbie Kruger (APRA)
Merrick Watts, Tim Ross, Adam Zammit, TransAm Wilson (NOVA/Revolver)
Andy Glitre (DJ)
Ian Spicer (Gas nightclub)
Barry Divola & John Tingwell (WHO Weekly/The Drum Media)
Craig New & Jake Stone (Revolver)
Ben Facey, Andy Milne (Warner/Festival-Mushroom)
Bianca Dye (NOVA)
Bogart Torelli (MIX FM)
Peter Holmes (Sun-Herald)
Kathy McCabe (Sunday Telegraph)
Adam Spencer & Chelsea Anthon (Triple /Zomba)
Vic Davies & Angela Bishop (Triple M/Network Ten)
Damien English, a Spellbound subscriber and active participant on the Icehouse discussion list, provided this great report:
Last night we (Arlyn and I) made our way to the "Don't give up your day job" gig at the Bridge Hotel, Rozelle. We had a great night!


We arrived at the venue at around 7.30pm, and quietly slipped out to the beer garden for some drinks and a packet of chips (dinner!).


Prior to the gig, we brushed shoulders with funny man Vic Davies (Triple M), Michael Chugg (Tour Promoter), Glenn A Baker, and the very funny and talented Adam Spencer (Triple J).


Before long people began to move into the room where the gig was to be held, and eventually we found ourselves at a good vantage point not too far from the front of the stage.


Prior to the gig, Adam Spencer made his way to the stage to announce that his parents (who were present on the night) were celebrating their 35th wedding anniversary! I think this was his way of trying to say 'please keep things clean'- which was to no avail, as there were some pretty choice words to be heard throughout the evening from the mouths of 'Jabba', the MC (who bears no physical resemblance to the Star Wars crime boss!), and various members of the judging panel!


Soon enough MC Jabba began to call up and introduce the band members to the stage. The band was quite large, and was comprised of two guitarists (Iva on 'the' black electric, and an acoustic, the other guy was just on electric), bass guitarist, two guys on keyboards, three in the brass section, and a drummer.


The vocals were performed by people within the industry, so it was a good opportunity for the 'real' musos, the judging panel, and the audience to have some fun and a laugh at the contestants' expense.


Following the completion of each song, the vocalist(s) had to 'stand trial' before the panel of judges to hear the 'verdict' of their performance, good or otherwise!! These moments between songs were full of good natured humour and laughter (and crude language!), and added to the light-hearted spirit of the evening.


Iva looked fit and healthy, was relaxed on stage, and appeared to thoroughly enjoy the night. There were some funny interactions between him and MC Jabba, and between some of the other vocalists too. There appeared to be a strong sense of respect for Iva among those in attendance, both on and off stage.


In one situation, one of the vocalists even referenced the lyrics "Great Southern Land" during a rendition of Tenacious D's "Greatest Song In The World," which was a brief 'tribute' to Iva, delivered with great affection!
Now to the list of songs (that I can recall) that were played throughout the evening (in no particular order):


Rick Springfield - "Jesse's Girl"


Steve Miller Band - "Abracadabra" (one of my favourites from the night - Iva's guitar work here was stunning- the guitar sound he produced being just like the original!)


The Verve - "The Drugs Don't Work" (another favourite - would like to hear Iva sing this one - I think he particularly enjoyed playing this one!)


Dolly Parton - "Nine To Five" (who would ever have guessed?! - great rendition!)


Elvis Presley - "A Little Less Conversation" (great fun - loved the brass!)


Billy Thorpe and the Aztecs - "Most People I Know Think That I'm Crazy" (complete with an unexpected visit to the stage by Billy Thorpe himself)


Kylie Minogue - "Can't Get You Out Of My Head" (Iva on acoustic guitar for this one - a creative (no-less!) rendition, and one which guest judge Paul Mac described as reminding him of a Croatian Wedding!!)


Nick Cave and Kylie Minogue - "The Rose" (Vic Davies and Angela Bishop on vocal duties for this song, which was surprisingly good!)


A song from Grease (sorry, can't remember the name of this one - but the performance was great!)


Tenacious D - "Greatest Song In The World" (great rendition, Iva on acoustic, complete with "GSL" 'tribute')


Ian Dury and the Blockheads - "Hit Me With Your Rhythm Stick" (the organiser of the event sang this song, and his vocals sounded so like the original - an admirable version! The song was reprised at the end of the show! A crowd favourite!)


There were a few more songs, but I can't quite remember them now.


The whole night was quite a surreal experience - seeing so many famous faces, and wondering what the hell we were doing among them, but we didn't care - we had a ball!


I took some shots of the performance, and had a brief talk to Iva after the show. After introducing myself Iva replied "Ah, Damien, I thought that might have been you. Thanks for coming." The pleasure was all mine!


Iva mentioned that he enjoyed the performance because it felt "pressure free," which made me consider that he must have had a similar feeling during his 'tour of duty' with Yukihiro Takahashi. He was a great sport though, particularly when the road crew weren't as forthcoming as they could've been! "Ah, isn't this supposed to be plugged in - someone?"


The gig was quite long, and Iva did mention that he'd experienced at least one very late night in rehearsal with the band until around 1 a.m. in the morning. So considering how tired Iva must have felt by the time I approached him, and that he still had to help the band pack up all the gear, I was most appreciative of him giving his time for a quick talk.


All in all it was a very enjoyable night. Iva's contribution to the band and the evening was fantastic, and his playing was as sensational as ever - Iva, it really was great to see you on stage again!


Damien

P.S. Just for the record - the person who yelled out "play 'Can't Help Myself'" - it wasn't me!!
Thanks for the report, Damien!
On November 10th, Triple J radio played a list of the top Australian Alternative tracks beginning with the year 1975. The track played for 1980 was Flowers' "We Can Get Together."
Iva was invited to present an award at the Australian Dance Music Awards held at the Metro in Sydney on November 13th. Among the winners were Meltdown artists such as Endorphin (Best Album - Skin), sonicanimation (Best Live Act and Best Video) and John Ferris (Outstanding Contribution to Dance).

In other news…
Andy Qunta is busy playing with several bands in the L.A. area. The Chris Thompson Band, for which Andy plays keyboards, had a very special gig on October 18th, 2002. The legendary rock band, Queen, received their star on the Walk of Fame in Hollywood. As a special treat for their fan club members, Queen staged a concert in Los Angeles. Chris Thompson is a long-time friend of the band and was asked to open the show! Andy gave us this report on the show:
The Queen show was a great night from start to finish. There was a great vibe in the club, the staff were great, the audience was great, and the musos - well what can I say - fab-u-lous! We played "Crazy" about half-way through the CT Band set. The crowd had been all vibed up from the start, but as soon as we got into the intro of "Crazy," everyone started looking over to the side of the stage next to me, and there were cameras flashing in that direction. I turned to see what the heck was more interesting than me, and there stood Brian May watching us! I took that to indicate he liked the song, as it was the only time all night that he appeared, other than when he was actually on stage.


Steve Vai, guitarist for Whitesnake, David Lee Roth, etc., joined with the Queen guys for the encore (Led Zep's "Rock n Roll"). Lead vocals for the Queen part of the show were traded between Brian, Roger (who came down from his drums to sing upfront a couple of times), Patti Russo (from Meatloaf), who sang "Under Pressure" as a duet with Roger - great! Also Chris sang a couple, including "Crazy Little Thing Called Love". That's 2 "Crazy" songs in 1 night!


There were lots of Icehouse fans there. A guy from El Paso told me he would have brought his Icehouse CDs for me to autograph if he had known I was going to be there! I got asked several times for autographs, and occasionally a phone number, so it was just like old times!
Andy is also playing in a band called Made In Japan, which is a tribute band to Deep Purple. If you are in the Southern California area, check your local listings for these bands!
Paul Wheeler has put together a band, along with bassist Steve Bull. They play around the Sydney area under the moniker of The Wheelers! The band played a gig at the Manly Boat Shed on November 30th (Paul's birthday) and can be found playing all around the Sydney area. Check them out!