... as of August 31, 2015 10:31 PM
28 August 2015
Jonesy & Amanda interviewed Iva on WSFM101.7. Iva's segment begins 27 minutes into the podcast.
28 August 2015
On Mornings, Iva Davies and Icehouse return after 35 years!
28 August 2015
On The Morning Show, legendary rocker Iva Davies looks back at some crazy 80's hairstyles and fashion, and opens up about the time he nearly got killed by a stuntman while making the music video for 'Crazy'.
28 August 2015
Legendary rocker and Icehouse front man Iva Davies drops by Sunrise to announce the band's upcoming Aussie tour.
28 August 2015
Media Release:
ICEHOUSE are celebrating the release today of their very first Live album, ICEHOUSE: In Concert, by adding two Apple Isle shows to the rapidly selling In Concert tour dates at the Wrest Point Entertainment Centre Theatre on Friday 26 February and Saturday 27 February 2016. Tickets for both shows go on sale at 9am today.
Produced by Iva Davies and ICEHOUSE bass player Steve Bull, ICEHOUSE: In Concert features tracks recorded during various performances from the band's touring schedule from October 2014 through to February 2015. Iva, Steve and the band sorted through hours and hours of recordings to choose the very best versions of each track to compile the album. With no overdubs or studio trickery, the album is a genuine representation of what it sounds like to be live at an ICEHOUSE concert and features the line-up that has been touring since the band returned to performing in 2011.
ICEHOUSE: In Concert is available as a 2-disc CD set in store and via iTunes today with plan to release a triple-vinyl set later in the year.
While the dates below still don't currently reflect a concert in Adelaide, ICEHOUSE does have something special up their sleeve for them which will be announced in the next few weeks.
25 August 2015
From May The Rock Be With You:
Iva Davies of Icehouse
by Troy Culpan
"So really over the last four years we've become quite a family and I think that the guys are actually very, very proud of what they produced, they know the band very well, they know the material very well, and at a certain point the muttering started of we should actually record all this stuff because the band has never sounded better and we should get this down."
From release: With a career spanning over 35 years it's hard to believe that there are any "firsts" left to achieve for one of the country's most loved and highly accomplished bands, but with the announcement today that icons of the Australian Music Industry, ICEHOUSE, will be releasing their very first Live album, ICEHOUSE: In Concert the band has proven once again that their reputation as mainstays of the country's music scene is not about to change any time soon.
I've got to admit, I fanboyed a little in this interview, it's not very often you get to talk to someone you've been listening to for almost thirty years… so we gave Iva Davies a call to talk all things Icehouse, their new live album, tour, history, and much, much more… you'd be 'Crazy' not to read this one…
'In Concert' is unbelievably your first live album in your career, why was now the right time to release a live album?
That's a fair question which I've been thinking about and I've been thinking back in the very busiest time it was actually quite a thing to record a live album because lots of people did, I think Midnight Oil put out a live album during that hot period, and probably a number of bands I don't really know. We had a bit of a different sort of pathway, we actually had a break of about sixteen years and didn't play at all, and about four years we started firing up again and one of the things that I was very particular about was that we wanted to get the best possible crew together to support the band, and a lot of them have been working with me for potentially thirty years believe it or not… but we wanted to use the same guys, we wanted to have an absolutely solid team, the same team every time we performed, the same lighting designer, the same front of house engineer, the same monitor engineer and so on. So really over the last four years we've become quite a family and I think that the guys are actually very, very proud of what they produced, they know the band very well, they know the material very well, and at a certain point the muttering started of we should actually record all this stuff because the band has never sounded better and we should get this down. Now we are fortunately in a period in history where the technology involved in doing that is so much easier than it was twenty five years ago, so it was an obvious thing to do now and we are aware too that there will probably only ever be one live album *laughs*, this is it and it's quite a document and a lot of love went into it. Our bass player Steve Bull was responsible for wading through the seven concerts that we recorded and getting the best versions out of those… it's a very faithful document, there's no re-recording or cheating on it *laughs* basically it's all real, but it is selected out of seven different shows that we recorded earlier in the year.
In wanting to get it perfect, was it difficult putting together what would become the set for the album, or is this what your current live set looks like now?
It's basically the live set, as I said, this is sort of what we did, we just really wanted to document what we were doing earlier this year. The set did change on occasion, in fact there are versions of songs on the live CD that were one offs that we only played once, so of course poor Steve *laughs* the bass player didn't have any choices really, if we mucked up in that, that was it. It is pretty much the live set we were doing, not only were doing, but we probably will continue to do over this next run of concerts.
The leads into my next question, so in line with the live album we see the band hitting the road again, which is great news, is the 'In Concert' release a representation of what we can expect at these upcoming shows?
Yes it is and there was one particular thing, I think possibly my favourite moments of the Cd we hadn't done before, it was only introduced in the set of earlier concerts this year and that was a little section where we broke everything down into an acoustic set. It was great fun but it was incredibly interesting too because attacking those songs which are generally speaking fairly large productions *laughs* as is my way, but trying to break them down to one acoustic guitar was quite an interesting exercise and successful enough in its own way that I think we're going to try and repeat that in this next set of shows. I'm not sure that we'll keep that forever, but it was great fun doing them that way because it actually exposed the skeleton of the songs as it were.
Wasn't that the way they were written?
No, well they weren't , that's quite an interesting thing, very few of my songs were written on guitar, most of them were written on keyboards, and it's an odd thing, most of the hundred or so songs that are on albums, there's possibly three that were written on an acoustic guitar *laughs*
I want to mention the musical genius and talent that is Michael Paynter, since 2011 what has he been able to bring to the band?
Well Michael is of course an extraordinary talent and all round musician, he's not only a singer but he's a great guitarist, he's a great keyboard player, he plays the drums and he also is a great producer so he knows his way around music technology in an extraordinary way. That's his day job I guess is that he and a partner have a little studio and they actually write for people and produce their recordings, but what he has is the energy that goes along with being thirty years younger than I am *laughs* but it's also quite interesting, for him all this material, all of the catalogue of Icehouse was new material, he didn't grow up with it, he's of a different generation, so it's actually quite interesting to take in his interpretation or the things that he extracts from that material as he finds it new whereas of course we've lived with it for a very long time and when you've lived with something for a very long time you sort of glaze over and don't look at it again properly. Michael of course whenever he takes on one of my songs he brings a whole new energy and a whole new life to it, really.
Yeah, like when he sings 'Man of Colours' I mean he's probably the second best singer to sing it, but it's a magical version…
I know he has a special affection for 'Man of Colours' the song, and in fact he was going to do a version of that on The Voice when he was competing on that, but unfortunately got bumped off the show *laughs* as a contestant the week before he was about to do that, I would've been very interested to hear how people react to it. People do react to it all the time of course; we enjoy it whenever he comes to the front of the stage.
With the resurgence of Icehouse can we expect some new material from the band any time soon?
When you say soon, on this next run of shows we won't be producing any new material, I never say never though… it's a very particular thing writing with me, I've got to be in sort of a space for it, and it's always been that way not that this is a new situation. At the moment we're in touring mode, and touring mode is quite an exclusive mode for me, I actually have my head in one particular place and that is the kind of mechanics of getting on stage and performing. I've never been able to mix the two up, it's just the way I am, I'm either in studio mode or I'm in on the road mode *laughs*. So the short answer is no, there won't be any new material in this next set of shows, but never say never.
Let's jump back a little, Man of Colours was and still is such an influential album for many and one of my all-time favourite albums, with it now twenty eight years old, what are some of your best memories of when it took off?
It's interesting because the album that preceded it really did a lot of heavy lifting, I remember we came back from a third album which was, let's face it, very unsuccessful and it was quite a body blow and we knew we had quite a task to recover ground as it were. So we did that with the fourth album which is called 'Measure For Measure' and we put a huge investment into it, in fact it was an incredibly expensive album, it was one of the first three fully digital albums in the world, it contained a lot of new technology, and we toured relentlessly on it, all through Australia, regional Australia and then especially North America. We achieved a number of top fifty hits in America which may not sound terribly impressive but America is an enormous place and to even make a dint in North America is quite an achievement, and so songs like 'No Promises' and 'Across The Border' and 'Mr Big' achieved that sort of top fifty status in The United States, and it kind of set the ground for what was to follow it. The first thing that followed it was the single 'Crazy' from 'Man of Colours' and I remember getting a call from our manager saying it's just gone into the top twenty and it was a huge moment for me. It also felt as if we had worked very, very, very hard for this and so when 'Electric Blue' followed it into the top ten in North America it had been the culmination of a lot of work for a long time.
I'm a huge Hall and Oates fan and seeing John Oates sing Electric Blue with you when you toured with them was a huge moment for me, do you still get a kick out of that when you get to do it?
He's an extraordinarily generous man and the circumstances around him co-writing with me are kind of one of those fairy tales really, as by chance he met me in an airport in Adelaide in about 1982, they played in the same venue that we had just arrived to play in, they'd been there the night before and he had just bought the second album, and recognized me and came over to me and shook my hand and told me all of this, like he just bought our album and he was really enjoying it and just thought he'd let me know, and it was completely out of the blue. He walked away and I was absolutely gobsmacked as you would be, this icon of the American music industry coming up to you and shaking your hand, and I thought nothing of it… but years later I picked up the phone in a hotel in New York and John Oates was on the end of the phone, absolutely insisting that we should write songs together and I think I tried every excuse that I could to get out of it because I'm not very good in a studio with people, I sort of work on my own and that's the way I like it. He absolutely insisted, and he brought himself out to Australia and he brought all his gear with him and we spent a week, and the result of that week was 'Electric Blue', and even before it was finished because he left to go back to The United States, it was barely half finished in terms of the lyrics and so on, but even at that point he made me absolutely promise that we would release it as a single, he said to me "If you don't, Hall and Oates will release it as a single and it will be a hit" he was absolutely sure of that and I have enormous respect for him because obviously his skill as a song writer he could make that prediction with absolute conviction, even with the bare bones of a song *laughs*, he absolutely knew what he was doing.
I have to ask as it's been bugging me and a close friend for years, can you please help solve the mystery of which building you shot the 'Electric Blue' clip on?
You know I can't tell you what building that was, and you're right, other people have tried to track that down and YouTube is an amazing place of course *laughs*. It was in the central business district of Sydney, there have been a number of people who reckon they pinned it down, but I'm absolutely no use to you whatsoever unfortunately it was such an incredibly busy time for us that I was just directed to turn up at a certain place and a certain time and that's exactly what we did and I have no real recollection of where it was at all…
You've been doing this now for almost forty years, and the industry is a much different beast than it was back in 1980 when you released your debut album, but what for you has been the most noticeable change you've witnessed in music over this time?
Well I think the obvious thing is the way that which music is distributed because of course when we arrived at the business end of the music industry, it was a monopoly in so much as that the technology of recording was a very exclusive one, and for anybody to own a recording you had to pay for it because that was the only way that it could be distributed. Things have changed of course and what that's doing is changing the basic model of where income is coming from, unfortunately through piracy but that's the way it goes, but what that's done too is that it's brought the focus of musicians back to performing because you can sit down and watch the DVD of a concert, but there is nothing that will actually replace being witness to a performance. My son has just turned nineteen and he's a very skilful guitarist and he's in his first year of tertiary music studies, and my advice to him would be that you are now a performing musician and that's going to be your bread and butter, the exclusivity of recordings is not what it used to be and therefore the one thing that you have that nobody can take away from you or copy, or pirate is what you do in a concert and I think that is probably the new focus.
Lastly, as the year hits the downward slope, let's predict the future, so finish this sentence for me, by the end of 2015, Icehouse will…
Icehouse will be getting on a bit I reckon… *laughs*
22 August 2015
Laurel, Gary & Mark of 4KQ in Brisbane speak with Iva about the Cloudland Ballroom, David Bowie, and why one should never allow the bass player to choose the songs...
21 August 2015
Iva is interviewed by Lu & Matt from The River FM in Albury, NSW. He discusses the history of Sound Relief, promotes the new live album, and plays a game of True or False.
21 August 2015
From the Mudgee Guardian:
Electric green: headline act Icehouse to bring live form to Mudgee
by Sam Potts
With strong ticket sales, their first live album on the way, a new generation of fans, and fresh onstage ideas, A Day On the Green headline act Icehouse are in fine form leading up to their appearance in Mudgee soon.
"We're really looking forward to it," singer Iva Davies said. "We did a run of A Day On the Greens with Hall and Oates a couple of years ago which was great fun, I loved the atmosphere of, it's just completely different to be involved in an outdoor show in such relaxed conditions. And this time we can bring our own big production to it. I think the reaction to this particular lineup has been incredibly enthusiastic so far."
Icehouse's live performances are priority of the moment and they are set to release their very first live album, Icehouse: In Concert, as a 2-disc CD set in store and via iTunes from Friday, August 28.
Iva said it's a "faithful" reproduction of what it's like to be at one of their concerts and a preview of what to expect at ADOTG.
"It's actually very surprising that it's taken this long to produce a live album, there's never been one, and I'd say we've been one of the very few acts that have had a history as long as this and not had one," he said. "But I'm glad that we waited because the band has never sounded better.
11 August 2015
Today's Entertainment Editor Richard Wilkins remembers comedic legend Robin Williams on the anniversary of his death and Olivia Newton-John's performance of 'Xanadu' with her daughter Chloe. Also included is a 30 second segment announcing the new live album!
10 August 2015
MEDIA RELEASE:
With a career spanning over 35 years, it is hard to believe that there are any "firsts" left to achieve for one of Australia's most loved and highly accomplished bands. With the announcement today that icons of the Australian Music Industry, ICEHOUSE, will be releasing their very first live album, the band has proven once again that their reputation as mainstays of the country's music scene is not about to change any time soon.
Produced by Iva Davies and ICEHOUSE bass player Steve Bull, ICEHOUSE: In Concert features tracks recorded during various performances from October 2014 through February 2015. Iva, Steve and the band sorted through hours and hours of recordings to choose the very best versions of each track to compile the album. With no overdubs or studio trickery, the album is a genuine representation of what it sounds like at an ICEHOUSE concert, and features the line-up that has been touring since the band returned to performing in 2011.
ICEHOUSE: In Concert will be available as a 2-disc CD set in store and via iTunes from Friday 28 August 2015. Pre-orders are available now on iTunes Australia only at ICEHOUSE/InConcert. There are also plans to release a triple-vinyl set later in the year.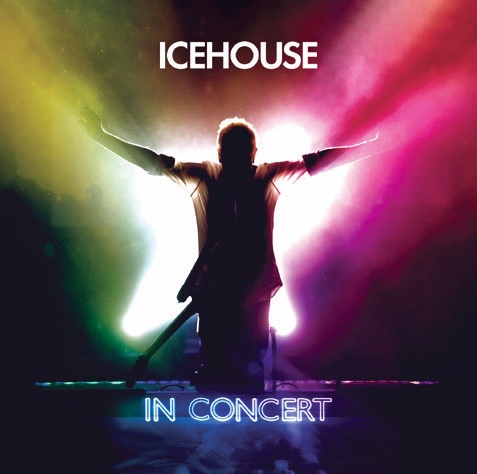 TRACKLISTING
Walls
Mr Big
Love in Motion
Crazy
Hey Little Girl
Electric Blue
Baby, You're So Strange
Heartbreak Kid
Dusty Pages
Street Cafe
Man of Colours
Miss Divine
Don't Believe Anymore
Great Southern Land
Can't Help Myself
Nothing Too Serious
We Can Get Together
Icehouse
Cross the Border
Sister
ICEHOUSE: In Concert will be released through Universal Music Australia on Friday, 28 August 2015
In celebration of this, yet another milestone in ICEHOUSE's illustrious career, the band will again be heading out on the road taking the IN CONCERT experience to the fans. They will be visiting some well acquainted venues and debuting at some new venues along the way, including the previously announced appearance at A DAY ON THE GREEN in Mudgee.
Iva Davies today said, "I'm very excited by this release. We've been back playing live since 2011, and the In Concert recordings show the band at its strongest – it certainly sounds like us! Being our first true 'Live' album, we're all very happy to share this with fans and friends. While what people see on the IN CONCERT Tour may not be exactly the same as the album, we can promise everyone it will be just as powerful. The band can't wait to hear everyone singing along."
While the dates below don't currently reflect a concert in Adelaide, SA fans can rest assured ICEHOUSE is working on something special for them which will be announced in the next few weeks.
Tickets to all shows (excl. A DAY ON THE GREEN) go on sale at 9.00am AEST, Wednesday 12 August 2015.
ICEHOUSE In Concert Series
Friday, 23 October 2015
Albury Entertainment Centre, Albury, NSW
Tickets.com
Saturday, 31 October 2015
A DAY ON THE GREEN
Robert Oatley Vineyards, Mudgee, NSW
Ticketmaster
Friday, 8 January 2016
Castelli Estate, Denmark, WA
Ticketmaster
Sunday, 10 January 2016
Rottnest Island, WA
Ticketmaster
Saturday, 30 January 2016
Sandstone Point, QLD
Special Guests: The Whitlams and Diesel
Ticketek
Saturday, 6 February 2016
Civic Theatre, Newcastle, NSW
Presented by KOFM
Ticketek
Saturday, 13 February 2016
Enmore Theatre, NSW
Presented by WSFM
Ticketek
Saturday, 20 February 2016
Palais Theatre, Melbourne VIC
Presented by GOLDFM
Ticketmaster
More dates yet to be announced!
12 May 2015
Icehouse - Great Southern Land - Performed live on campus at the Australian Institute of Music Graduation ceremony 2015. Iva Davies and AIM's own Paul Gildea performed this acoustic of Icehouse's classic in front of a packed auditorium for March's graduation.
1 May 2015
From the Sydney Morning Herald:
As The Con turns 100, ex-students remember high notes and lows
by Nick Galvin
IVA DAVIES
Icehouse frontman, oboe player
Studied from 1974-1977
As a student I was ... officially a dropout. I was a tertiary student at the Con but I never finished.
Most important lesson ... discipline in many forms, from dedication to my instrument to the discipline of working with ensembles.
Favourite memory ... a graduation performance of diploma students. My future teacher played the Richard Strauss oboe concerto. That was extraordinary and I'll never forget it. It was a really defining moment.
Most stressful moment ... when I got the job as third oboist in a Sydney Symphony performance of Bach's St Matthew Passion. I was entrusted with the parts for the whole oboe section. It was in the days before the Opera House was completed and there were no direction labels from the green room to the various theatres. I got incredibly lost and eventually found my way to the concert hall stage. The entire orchestra and conductor were waiting for me.
If I hadn't pursued music I would have ... the only other interest I had growing up was archaeology, believe it or not.
Most important lesson the Con never taught me ... that there would be people along the way in positions of power who were less focused on the beauty of music and more on politics.
5 March 2015
From 612 ABC Brisbane:
Iva Davies, Toumani & Sidiki Diabate, Amber Lawrence and Jodie Boni
Another episode of Live and Local for you, featuring live music and conversations with the artists themselves from Local Radio studios right around the nation. This week: Iva Davies, Toumani & Sidiki Diabate, Amber Lawrence and Jodie Boni.
27 February 2015
From WSFM 101.7:
VIDEO: Icehouse Perform LIVE At The Party Of The Decade
Iva Davies and Icehouse joined Jonesy and Amanda at the Party Of The Decade to perform an incredible acoustic set.
Take a look at some exclusive snaps and then enjoy the videos showcasing Australia's unofficial anthem 'Great Southern Land' as well as an amazing new arrangement of the classic 'Street Cafe' and finally a rousing performance of 'We Can Get Together.'
31 January 2015
From Noise11:
Icehouse, Melbourne, January 30, 2015 Review
by Angela Black
In 2011 Iva Davies & his band Icehouse toured Australia on what was known to fans as their "Flowers" tour, playing songs primarily from their very first album when the band were actually called Flowers and the title of the album was "Icehouse".
In 2015, Icehouse now gives us pretty much the "Masterfile" tour, with the majority of the setlist matching the 1992 compilation 'Masterfile'.
Last night at the Crown Palms in Melbourne, Iva Davies and Icehouse performed their first of a 4-night stint to a sold out crowd. This time, they pleasantly surprised their fans by mixing things up a bit by playing a few different tracks that they haven't really been performing since their resurgence over the past 5 years.
They boldly opened the show with "Walls" which lead straight into "Mr. Big" which was a refreshing new addition for the fans, followed by the groovy "Love in Motion".
At the start of a clever little acoustic set, lead singer Iva Davies shared some special stories with his captive audience by talking about how he actually writes songs. He explained how he usually writes the music first then followed by the lyrics. He went into further detail explaining about how the actual lyrics came about for "Man of Colours" which was later beautifully performed in the set with band member Michael Paynter on vocals and Iva playing the oboe. Iva also gave credit to some of his influences from T-Rex to Bob Dylan. He further explained how Bob Dylan's style was a strong influence on him at the time he wrote "Heartbreak Kid" which is also found on their "Man of Colours" album. The acoustic set also featured a clever version of "Street Café" as well as the "Sidewalk" track "Dusty Pages", which was as real treat for their core fans.
The band's performance was solid with some great sax solos from Glenn Reither on songs like "Don't Believe Anymore" and the Icehouse classic "Electric Blue". Iva and the witty guitar player Paul Gildea charmed the audience with their banter while bass player Steve Bull and long-time drummer Paul Wheeler orchestrated the rhythm section. The stage layout and design also had some new features which gave this show some interesting visuals.
Overall, this Icehouse tour contains quite a bit off their "Masterfile" compilation album which was originally released in 1992 and includes quite a number of their classic hits. With this tour Icehouse fans can appreciate a new take on the old songs with some additional surprises to the set.
Icehouse setlist
Walls (from Flowers, 1980)
Mr. Big (from Measure For Measure, 1986)
Love in Motion (single, 1981)
Crazy (from Man of Colours, 1987)
Hey Little Girl (from Primitive Man, 1982)
Electric Blue (from Man of Colours, 1987)
Baby You're So Strange (from Measure For Measure, 1986)
Acoustic set:
Heartbreak Kid (from Man of Colours, 1987)
Dusty Pages (from Sidewalk, 1984)
Street Café (from Primitive Man, 1982)
Man of Colours (from Man of Colours, 1987)
Miss Divine (from Code Blue, 1990)
Don't Believe Anymore (from Sidewalk, 1984)
Great Southern Land (from Primitive Man, 1982)
Can't Help Myself (from Flowers, 1980)
We Can Get Together (from Flowers, 1980)
Encore:
Nothing Too Serious (from Man of Colours, 1987)
Sister (from Flowers, 1980)
29 January 2015
Oz Rock Photo Gallery From Rock Candy Magazine.
Photos by Barbara Bertoli & Andrea Manno
27 January 2015
From WA Today:
Icehouse, James Reyne and Diesel rock Perth's Red Hill Auditorium
by Pip Doyle
If Sunday night was anything to go by, I'm pretty sure we have a new national anthem.
Mental As Anything, Diesel, James Reyne and Icehouse - the concert that, when I asked my plus one if he was keen, he couldn't text me back a bigger-fonted YES.
The venue, Red Hill Auditorium, is just off Toodyay road and, snuggled among the eucalypts with an incredible view out from the bush to the city limits, it looks as though it just occurred there by natural volition.
A smart way of getting there is to catch one of the shuttles that leave from a bunch of locations across the metro area - we hopped on the one which left the Rosemount in North Perth.
A note about the auditorium, if you've never been…
Bring a cushion. You're going to be sitting on limestone blocks
Slip, slop, slap and slip, slop, slap some more – the only places to escape the sun is in the loos or getting out money from the two ATMs (which, by the way, command a $4 charge)
Bring something warm to wear for later. When the sun is up, the amphitheatre can be thermonuclear, but when the sun goes down, it can get pretty chilly
I didn't do any of these things.
As the sun was setting, the Mentals kicked everything off with Too Many Times and didn't skip a beat in their set, which lasted roughly 45 minutes. The dance floor kept filling during the classic Live It Up and If You Leave Me, Can I Come Too?
Greedy Smith and the boys completed their showcase churning out The Nips Are Getting Bigger, which for some punters, would end up being a fair representation of how the night would pan out.
Seriously, where has Diesel been and why do I not have any of his albums? This performance was dead-set phenomenal. I remember turning to my plus-one saying: this is the sort of music that reminds me of a time before music talent shows like Idol, you know, like the days when E Street was on TV.
Man Alive was on-point pub rock, but it was the baseline of All Kinds of Weather that got the attention of many ladies (and some men)... it was pure sex.
The crowd pleasers were Tip of My Tongue and his guitar work on Cry In Shame.
If this were all I got to see on Sunday night, I would have been one satisfied concert-goer.
And then came James Reyne.
First of all, he is 57 and doesn't look anything over 38.
Second of all, he still sings like a doctor writes prescriptions, I struggle to understand the words.
But who cares, right? It's JAMES REYNE, the guy who is behind some of the most memorable songs in Australian culture, so much so I reckon his entire back catalogue should be given to newly-minted Aussie citizens.
I didn't make the dance floor to show my appreciation for Mr Reyne as it was absolutely jam-packed with people getting down to Beautiful People and the Boys Light Up before slowing everything down with more Australian Crawl stalwarts, Reckless and Downhearted.
Songs from his solo career, such as One More River and his most successful single Way Out West (with James Blundell), didn't make the set list.
So here we were, under the stars on a balmy summer's Australia Day eve, surrounded by eucalypts when they walk onto the stage.
Icehouse.
As I write, I'm trying to find my notes for the Icehouse set. I don't have any. This usually means one thing: I was way to busy having a great time instead of having my pen poised.
All I wrote was "Iva sounds just like David Bowie – amazing" and a shorthand scrawl saying "We Can Get Together, dance floor pumping".
Iva Davies, with his luscious curly mullet of the 80s now replaced with pure silverfox glory, reunited the audience with their youth with Hey Little Girl, Nothing Too Serious, Crazy, My Obsession and the song that is pure unadulterated Icehouse – Electric Blue.
The most moving song of the night was Man Of Colours. It completely shut the place down. Hearing it live was goose-bump inducing and a borderline hypnotic experience.
Just when you thought it couldn't get more incredible, the entire amphitheatre stood up for Great Southern Land.
Because of which, I now consider it our unofficial national anthem.
24 January 2015
From The West Australian:
Icehouse frontman Iva Davies chats about the iconic Aussie song Great Southern Land. Watch the video here.
16 January 2015
From Drive:
Star and Car: Iva Davies
by Owen Thompson
Icehouse frontman explains his fondness for quirky cars.
The lowdown: The iconic Icehouse front man has a strong attachment to a much-loved, no-frills German classic.
Career highlights: leading the band to 28 platinum albums, eight top 10 albums and more than 30 Top 40 singles; composing scores for the ballets Boxes (1985) and Berlin (1995) for the Sydney Dance Company; being inducted (along with Icehouse) into the ARIA Hall of Fame in 2006; being made a Member of the Order of Australia in 2013.
17 – the age I got my licence
1990 – the vintage of my VW Kombi
What was your first car?
I was very much guided by my father, who virtually picked the car for me. It was a Standard Vanguard, I think it was called. It was two-tone blue and the paint was in a pretty motley state. Even then it was a very old car, but it was $150, I remember that much. But that car gave me very quick service, I must say. It was a very smart choice of my father's. I drove it for at least a couple of years and when I sold it I sold it for $150 – exactly what I paid for it.
Did it get much of a workout?
I think I only took it on one really long trip, and that was to Finley in regional NSW. I remember my brother-in-law thought I was completely insane, but of course with the naivety of youth I had no idea that anything could possibly go wrong. And nothing did go wrong. In fact, it served me very well.
What are you driving now?
I've got a much-prized Volkswagen T3 kombi. It's a box-shaped one as opposed to the sexy older ones, but I bought it when it was a few years old and the fellow I bought it from had looked after it meticulously. It was originally a commercial van but he'd fitted it out with a back seat that opened up into a double queen-size bed. I've had it upgraded even further and it's recently been completely re-sprayed, so it's almost in showroom condition even after 24 years. I cannot tell you the number of people who've come up to me over the years and wanted to buy it from me. I don't know quite why I have the affection for it I do. It's a dog of a thing to drive. It's got no power steering, no air conditioning, no air bags. But it's a beautiful thing to cart my gear around in. It's incredibly useful.
What's your pet road peeve?
My absolute primary hate is seeing people – especially young people, but certainly not exclusively – using their mobile phones while they're driving, especially for texting. It's incredibly dangerous and I think unfortunately we're in for an epidemic of accidents caused by that.
How did you find the whole learning to drive experience?
Having seen my children go through the process in the fairly recent past, the attitude towards learning to drive of course was a lot more lax back when I was 17. Neither my father nor my mother, who didn't drive, gave me a lesson. They paid for a number of lessons – not too many – and I fronted up and got my licence on the first test I did. I can't recall it being stressful at all. But we are talking about a time when it was legal to drink-drive and I don't even think seatbelts were mandatory.
13 January 2015
From Rock Candy Magazine:
Interview with Iva Davies of Icehouse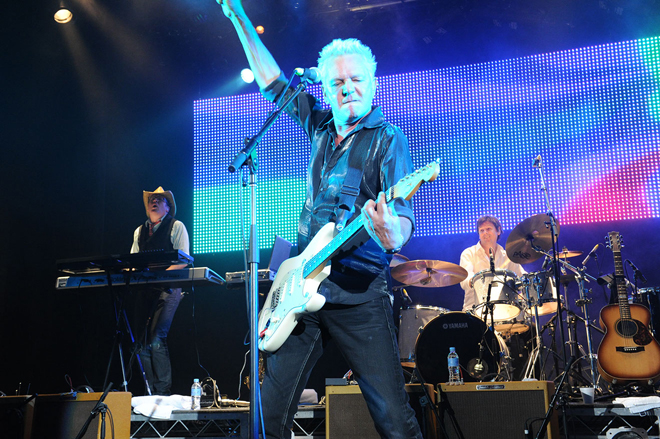 Interview by Antonino Tati
So far as Aussie music icons go, Icehouse are practically an institution. The band, who formed in 1977 amid a thriving Sydney rock scene, quickly evolved from typical 'pub rock' style to more of a 'new wave' flavour, making them stand out as a sophisticated lot amongst the 'rougher' likes of The Angels, AC/DC, et al.
Four decades on, and Icehouse is still going strong, ready to headline Oz Rock Busselton on Saturday 24 January of the Australia Day Long Weekend.
Having played West Australian shores dozens of times before, lead singer Iva Davies and his fellow players know the need to give fans something different each time, which is why they're introducing a fresh acoustic-driven set as part of this particular show.
"Half our band are in Melbourne; half our band are in Sydney," tells Iva, "so it means is that when we do get together it's almost a novelty… and that leads to a positive energy in the performances."
Suffice to say, 38 years of successful recording and touring, eight Top 10 albums and 20 Top 40 singles, and countless YouTube hits of classic videos, all hint that we're in for a bigger and better show than ever before.
Hi Iva. Let's go back to the beginning when you and the band were known as The Flowers. You had a huge hit with the single We Can Get Together. Why, after such huge success, was there a change in the band's name? Was there a particular legality there?
It was fairly simple, really. We released The Flowers' album in Australia and New Zealand without difficulty, but the success of it produced a lot of interest from international record companies. Ultimately we signed a deal with Chrysalis Records for the rest of the world, and the first thing they did was do a search on our trading name. Being a young band, we never thought of a band name being like a trademark, but in fact that's exactly what it is. Unfortunately we discovered two other artists were trading using the name Flowers. One of them was a famous session bass-player called Herbie Flowers, and you'd know his work. He's the man who created the bassline to Lou Reed's Walk On The Wild Side. So the name was simply not available anymore. It's not the first time it happened to an Australian band. It happened to Sherbert, and the Angels before they got their ultimate names.
It's a pity we didn't have the internet then to do a simple Google search.
Absolutely. Anyway, the name of our first album was Icehouse so, by default and overnight we became known as Icehouse.
Under that name, the band really began to gain momentum, delivering hit after hit, not only in Australia but in Europe and the US. In fact, your songs provided a soundtrack to much of the Eighties and Nineties. How does it feel to know your music has been a soundscape for so many Australians?
Well, looking back at over 30 years of work is very interesting because at the time it was like running on a treadmill that was going faster than I was. The process of writing and recording and touring kept us incredibly busy so the last thought I had in mind was how long these songs were going to last. Our vision at the time was fairly short-term; each album only took care of about a year or 18 months' worth of our existence. I basically tried to do things that wouldn't date but, really, one of the least considerations in my mind was whether these songs were going to be listened to in 30 years' time. Generally speaking, it would be fair to describe most of the popular music of that period, and other periods, as being fairly disposable.
Well let's take a classic example: Great Southern Land. That song has gone from pop status to practically becoming Australia's second national anthem.
It seems to have become that… The process of writing that particular song is a lot clearer in my mind than writing some of the other songs because I knew at the time it would be a dangerous thing to get wrong. Having said that, it was the first of 12 or so songs that I was virtually commissioned to write for our second album – which was an obvious priority. Great Southern Land happened to be the first song I wrote when we got back from our first international tour and with hindsight it's fair to say part of the reason I took on that subject was because, for the first time ever, I had gone a very big overseas trip and become incredibly homesick. I had a renewed kind of respect for Australia when I came back!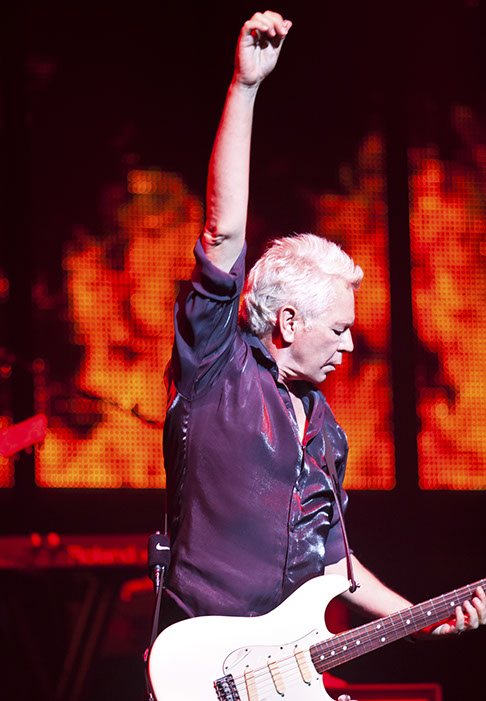 I read somewhere recently that you were told by your record company to be ambiguous with your treatment of the song, so that it didn't come across as too patriotic. I understand you were told to say in interview responses that the song wasn't really about Australia…
Well I was specifically instructed by my managers not to admit that the song was about Australia – which was quite an absurd directive, really. So it was very difficult for me to answer direct questions like, 'Is this song about Australia?' I never denied it flatly, and I never told a lie, but I did a lot of fancy political-type side-stepping of the question. The motivation of that instruction from my managers was quite simple: and that was that they wanted us to be perceived as an international band and not be locked into an Australian identity. At the time it might have made logical sense to them, but it made my life very difficult.
It brings me to a question about the here and now. Are you fascinated by how broadly embraced Australian music is today by the rest of the world?
It's an interesting thing. I was recently having a conversation with someone about the very early Australian music exports – bands like The Easybeats and The Masters Apprentices – and how difficult it would have been for them to land in London and attempt to compete with the likes of The Beatles, The Who, and so on. The fact of the matter is that Australia is still a very long way away from what it is perceived to be by the rest of the world but, because of the internet, things are becoming quite a different prospect so far as actually being able to launch music. I think Australia has always been incredibly strong with music, particularly our live scene. I remember first arriving in London and being incredibly disappointed. It was perceived to have been the mecca of music but there wasn't the same kind of pub culture that we had in Australia whereby on any given night – if you were in Adelaide or Sydney or Perth or Melbourne – you could go out and see 50 fantastic bands.
How do you mix things up when you're playing live, so that audiences are hearing and seeing something fresh each time?
Well, for Oz Rock Busselton we're introducing a kind of acoustic break in the middle of the show, which is something we haven't done before. Having three guitarists gives us the opportunity to strip the band down and try something new. And that gives us a springboard to kind of gear up again as well. Part of what we're introducing into the set with this acoustic moment is the opportunity for me to be able to tell the story of how some of these songs were written and to give away some of the more personal information about the songs than you might get from just sitting down and listening to a CD. And there are many stories attached to a lot of these songs!
I'm sure there are. You're quite a champion of seeing new talent take on classic work. You released the Meltdown album over a decade ago where you gave DJs of the day carte blanche to do what they wanted to your music. And more recently you and the current lineup of the band delivered reggae-tinged versions of Icehouse songs on the DubHOUSE album.
My philosophy on letting people loose to reinterpret my songs is quite simple, and that is that the originals exist – and some of them have existed for more than 30 years – and they'll always be there in terms of their original structure, but [to hand them over to new artists] means I'm not threatened by the prospect of having other people reinterpret them. My brief to all of the artists involved in Meltdown was that they should have absolutely no fear in recreating and rerecording these songs in their own way. I gave them absolute license and at no point was I involved. I simply sat back and waited to hear the very interesting things they came up with. I think it was very important not to meddle with their work. And I still have that appreciation. For example, Missy Higgins recently brought out an album called Oz which features cover versions of Australian songs, and one of mine is among those. I get real joy in hearing the way in which another artist will interpret a song; I find it endlessly fascinating.
Icehouse has always stood out on the Australian music landscape, not only for your great music, but for your ambiguity. Everything about the band appeared to go against the grain of the traditional Aussie 'ocker' mentality… Heck, you even featured drag queens in your music videos!
A lot of that was influenced by the fact that I had quite a strange beginning in music myself, in terms of musical background. I didn't advertise it at the time but as I was growing up I had a stringent classical training. By the age of 16 I was playing the oboe with classical ensembles and [on the side] I was playing guitar in the band. So I had these parallel lives happening at the same time. I guess that meant I was never going to fit into the stereotype of a conventional rock'n'roll person. From the very beginning, Flowers were an anomaly and to some degree the reason we chose that name was because it was in direct defiance of what would be expected of a pub rock band. We were at the time a peculiar hybrid of pub band, rock band, and synthesiser technicians. For us to actually go into a pub dressed the way we did, with the name we had, could have got us into a lot of trouble. But luckily we survived it!
One final question, Iva. Where is the strangest place you've heard an Icehouse song being played?
I get caught out every time I go to my local supermarket. I'll walk in there and hear myself quietly being beamed around the aisles. It's quite a surreal experience to be collecting my groceries and hearing Baby You're So Strange in the background.
10 January 2015
From ABC Grandstand:
Icehouse lead singer Iva Davies joined the Grandstand commentary team during day five of the fourth Test between Australia and India at the SCG.
9 January 2015
Here's a video on Facebook from Down Under Events, regarding Icehouse's appearance at OZ Rock Busselton.
8 January 2015
From the Brisbane Times:
Why Queen were the kings of the rock anthem - This Will Rock You
by Peter Vincent
Two days after winning the prized award for Australia's song of the year at the ARIAs, Michael Clifford, songwriter for Five Seconds of Summer, the Australian boy band storming the US, expressed his awestruck admiration for, of all bands, Queen.
"How the f--- did Queen actually write Boheman Rhapsody? It must've been black magic," he tweeted.
Clifford has been thinking a lot about the music of the seventies lately. "I woke up at 9am singing Hotel California," he said … [But] We Will Rock You is the best anthem ever. Queen are pretty much the anthem band."
He's right: four decades after the release of the following songs, who couldn't sing most of We Will Rock You, Bohemian Rhapsody, We Are The Champions, even Fat Bottomed Girls?
Pete Wentz, of American pop-punk band Fall Out Boy, admits he's constantly amazed at the reception for We Are The Champions, on the 42 times they have included it in their live sets. "It's wild that a Queen song resonates like that with 20,000 Americans, especially as so many of them are 16-year-olds."
What makes a truly great rock anthem is subjective. The Oxford dictionary defines an anthem as "a rousing or uplifting song identified with a particular group, body or cause". Like The Internationale? Try to play that at a party, let alone a stadium: you'd lose half the crowd, or at least get barred from touching the stereo.
But all rock anthems share certain qualities. They have to be something a crowd sings along to at concert, usually upbeat and instantly recognisable – and they must have stood the test of time.
Iva Davies, of Icehouse, believes there are particular components great anthems have in common: a great melody, universal themes or an intriguing ambiguity, perhaps a signature element. Think of the stomping and clapping in We Will Rock You, or that compelling first note in Great Southern Land.
But whether a song sticks in the public consciousness to the extent that it's still played in 30 or 40 years' time seems to come down to fate or luck.
It seems easier to ask what an anthem is not. Surprisingly, it is often not an immediate hit (We Will Rock You wasn't, Stairway to Heaven was never even released as a single). An anthem is almost never a novelty hit: irritating songs seldom last forever. Heart-achey songs can be memorable but don't go the distance – we eventually get over lost love (sorry James Blunt and Whitney Houston).
Great party songs don't necessarily make great anthems. Whole Lotta Love and Back in Black contain party-starting riffs but somehow we don't connect with those songs in the same way we remain fascinated by Stairway to Heaven or Long Way to the Top.
Anthems aren't necessarily a songwriter's greatest work either. For years people have mused whether America's Dewey Bunnell was high as a cloud when, in 1971, he wrote: "The heat was hot and the ground was dry/But the air was full of sound." Bunnell, who tours Australia with America in 2015, says he wrote Horse With No Name "in an hour".
"That song took on a life of its own and it's as strong as it ever was," Bunnell says. "Somehow it passed through a few generations and locked into a kind of eternal rotation". He says other songs he put more craft into didn't catch on, like Pages.
Davies agrees. When he wrote Great Southern Land, his songwriting process was "no different to the song I wrote before or after it".
Vance Joy, whose Riptide is already behaving like an anthem, knows the feeling. "It's likely I won't write another song that captures that bizarre chemistry. It's not every day you catch a 40-pound fish."
Anthems do tend to stand out though. Many express universal themes, like celebration, or so often in Australian anthems a sombre acceptance (Powderfinger's These Days, Cold Chisel's Flame Trees or Paul Kelly's How to Make Gravy).
Pat Monahan, lead singer of American stadium pop-rock band Train (whose catalogue includes a worldwide hit, Drops of Jupiter) believes global anthems make a point of including the listener. "Anthems are about us ... it's all about you and me. [Together] we are the only ones who can make it."
Luke Hemmings, from Five Seconds of Summer, says "an anthem has to bring people together. You're singing a song with them, not at them."
But for every profound song, every Bittersweet Symphony, there is borderline nonsensical one: a Horse With No Name, Stairway to Heaven or Bohemian Rhapsody – an almost indecipherable song that has made the eternal playlist because we somehow find it compelling.
So might any of the current batch of songs go on to become eternal anthems, sung the world over in, say, 2045? How might Iggy Azalea's Fancy fare, if you apply the rules above? It fails for the same reason much of today's selfie-obsessed popstars are struggling to resonate with consumers: "me, me, me," is not a universal theme.
Arguably, Beyonce has cut through once or twice with feminist anthems, Run the World and Single Ladies – but half the world is still only half the world. Gotye's Somebody That I Used to Know is more universal. Taylor Swift's Shake It Off also arguably qualifies.
Like it or not, Psy's Gangnam Style has already elbowed its way on that eternal playlist.
One thing going against today's would-be anthem writers is that is incredibly difficult for songs to become as big today as in the past. Train's Pat Monahan nominates Foster the People's Pumped Up Kicks as a modern anthem. But his guitarist, Jimmy Stafford, disagrees: "Do you think in 10 years anyone will know it? I don't even hear it on the radio any more."
"There's so much music now," Stafford says. "With the internet and social media you don't need a record deal. There is so much music out there that it doesn't stick. It's all thrown out there and not much of it sticks."
One final definable characteristic of an anthem helps – and it's what Queen has. "I went to see Queen in concert in Sydney," Davies says. "And it defused some of the mystery for me as to why they could achieve the level of songwriting they did.
"Roger Taylor's vocals were astounding and Brian May was able to carry a huge slab of a concert. You can see We Are The Champions related back to his guitar playing. And then you add Freddie Mercury. They were a collective of incredibly talented people.
'It was no wonder amazing things happened when they all got together."