Official Press Release
Excerpt - Davies is a talented musician who constantly pushes his own creative limits by searching for new and challenging projects. Confronted with turning "Great Southern Land," his seminal song about the nature of Australia, into a 40 minute composition he developed the idea of drawing together composers and musicians from all over the world to produce a complex collaborative work. The idea was to turn "Great Southern Land" into a piece of music which, in the minutes before midnight when the clock turns over from 1999 to 2000 will be performed on the northern forecourt of Sydney's Opera House. It will be broadcast around Australia on the Millennium Eve and then will become part of Australia's contribution to the vast international Millennium Eve celebration which will be broadcast live worldwide.

Using a rewritten and expanded version of "Great Southern Land" as the composition's centrepiece, Davies has called upon a number of musician-composers to develop the larger work "The Ghost of Time." Richard Tognetti, virtuoso violinist and Director of the Australian Chamber Orchestra, has collaborated extensively on the piece. Award winning Australian composer Christopher Gordon has written additional material inspired by the long, "endless horizon" opening to the original song. The Japanese avant techno unit Rom=Pari are also contributing as is ex-Icehouse turned Pink Floyd bass player Guy Pratt and a group of Taiko drummers.

The composition will be performed on Millennium Eve by a musical "group" comprising the Sydney Symphony Orchestra, Richard Tognetti on electric violin, Guy Pratt on electric bass, Rom=Pari, a group of Taiko drummers and Iva Davies on vocals and electric guitar. It will also be released on CD in the weeks prior to the end of the year.

"The Ghost of Time" gives notice that Iva Davies is moving into a new phase in his career. Early in the new millennium he will release a new single and album which are the result of a series of extraordinary creative collaborations in cities as far flung as Tokyo, Manchester, Swindon, Sydney and London. The album is being completed in London at the moment.

The Millennium heralds the emergence of Iva Davies as a major solo talent who, as his work matures and as his musical palette expands, is looking beyond the neat landscape of popular music and finding new worlds of greater complexity, subtlety and innovation which he is eager to explore and conquer.
---
Additional Information
Iva has confirmed that his performance of "The Ghost of Time" at the Sydney Opera House will be a part of the Lord Mayor's Ball, with ticket prices ranging from $800 to $2000. However, as the press release above states, Australians will be able to watch the performance on TV. It also looks as though viewers throughout the world may get a chance to see at least a portion of this exciting piece of Icehouse history in the making. A 24 hour global event - 2000 Today - will be televised around the world and will feature segments from many major cities as they celebrate the beginning of the new year. Each hour will have a spectacular top-of-the-hour during the ten minutes either side of midnight, when many countries entering the new year at that time will share the screen. The rest of the hour will have segments showing the best of each culture in performance and live entertainment. A list of participating broadcasters can be found at ABC Online.
---
"Message from the Lord Mayor" of Sydney, Frank Sartor:

Excerpt - "Iva Davies and the Sydney Symphony Orchestra will perform the world premiere of a new arrangement of Iva Davies' classic 'Great Southern Land.' The performance will accompany the Harbour of Lights lantern parade, a parade around the harbour foreshore of giant sea creatures, each the size of a three storey building, made from silk and steel and lit internally."
---
On 23 September 1999, Sydney's THE DAILY TELEGRAPH ran an article by Stephen Birch called "Sydney's party for millennium".

Excerpt - In the 40 minutes before midnight, former Icehouse lead singer Iva Davies will perform a special rendition of the band's hit, "Great Southern Land."

He will lead an ensemble of 70 musicians, including the Sydney Symphony Orchestra, for the performance.

The song has been reworked and renamed "The Ghost of Time" and is described as a "huge expanded version."

There will be special TV coverage from 8.30pm.
---
Within the pages of the same publication, another article appeared - "Iva lands gig of the millennium," written by THE DAILY TELEGRAPH's Millennium Reporter, Rachel Rodda.

Excerpt - The 1980s hit "Great Southern Land" will be Australia's song of the millennium, to be broadcast live to the world minutes before the clock ticks over to 2000.

Former Icehouse singer Iva Davies will lead a musical ensemble of 70 musicians, including the Sydney Symphony Orchestra, for the 40-minute performance based on the song.

It will be played as part of Sydney Lord Mayor Frank Sartor's New Year's Eve party in the northern forecourt of the Opera House.

Sydney-based Davies said he was approached in February by millennium event organisers Spectak to compose a new version of "Great Southern Land."

Renamed "The Ghost of Time," the composition is a "huge expanded version" of "Great Southern Land."

He said the project "evolved" as he called on musicians and composers to create a proper orchestra score.
---
The next day, THE DAILY TELEGRAPH printed a schedule of the night's events. The list included...

11.18pm: Iva Davies leads a 40-minute interpretation of "Great Southern Land" outside the Sydney Opera House.
---
Also on 24 September 1999, THE SYDNEY MORNING HERALD printed an article called "Lanterns based on an idea by Neptune," written by Anthony Denis.

Excerpt - When Sydney Harbour was threatened by a major oil spill last month, Peter England knew he was on to something.

Sydneysiders' concern about the harbour and its marine life proved that his decision to use sea creatures as the basis for 20 three-storey-high lanterns for a New Year's Eve parade was the right one.

The designs, which represent the diverse marine life around Sydney, were seen for the first time at Customs House yesterday, when the City of Sydney launched its $5.5 million millennium celebration plans.

Mr England, a NIDA-trained set designer, was part of the team behind Ric Birch's Sydney presentation at the Atlanta Olympics in 1996.

On New Year's Eve, the illuminated lanterns will be paraded for two kilometres along the harbour, against the musical backdrop of The Great Southern Land Suite, an interpretation of the hit 1980s pop anthem and performed on the Opera House forecourt by its composer Iva Davies, with Richard Tognetti on electric violin.
---
"Great Southern Man" was written by Julie Chong and appeared in THE CITY WEEKLY (October 28 - November 3, 1999 edition)

Excerpt - Eighteen years on from the hit "Great Southern Land," legendary Australian musician Iva Davies is reaching far into the depths of his creative genius to transform the song into a theme piece for the Sydney Millennium New Year's Eve celebrations.

An expanded version of the song called "The Ghost of Time," which is almost at completion stage, is a 40-minute arrangement for orchestra, voice, electric violin and guitars, Japanese Taiko drums and techno music.

The unique composition is set to become a milestone in the Australian music landscape. Venue for the performance will be an outdoor stage at the Sydney Opera House and it will be broadcast live to a predicted audience of 2.5 billion as Sydney ushers in the new millennium.

While our eyes take in pyrotechnic delights of the New Year fireworks sensations over the harbour, our ears will tune to the original musical of Davies and his eclectic band of collaborators.

Taking part in the gig is the Sydney Symphony Orchestra; the bass player from Pink Floyd, Guy Pratt; Rom=Pari, a Japanese avant-techno unit on the cutting edge; and Davies himself will sing.

In all, there will be more than 60 musicians involved in the performance and some of the collaborators, dotted around the globe in Australia, Britain, and Japan, have yet to meet in person. They have been comparing musical notes via the Internet.

With a little-known background in classical music underpinning his high profile CV as a rock musician, Davies was considered perfect for the task of creating the music for the cusp of the century event. He was commissioned by Spectak to provide the music for the City of Sydney's Millennium celebrations. So far he has spent six months on the project and as the end of the year approaches, his once-in-a-lifetime "dream" work is nearly complete.

"There are areas of it that I know I couldn't do," says Davies at his home studio on the Northern Beaches.

"For example, I'm not trained in writing for orchestras, so I've called on Christopher Gordon, an up-and-coming young Australian composer."

Davies says that Gordon works in quite a traditional way. "He has a piano and he writes the music out longhand, writing the arrangement for the orchestra and then he puts it into the computer."

Another fine young musician is Richard Tognetti, from the Australian Chamber Orchestra.

"Richard is a classical musician, but many people would not be aware that he plays electric violin. He will be playing all the way through the work.

"He's got a Jekyll and Hyde side to him. Often he feels that he's trapped into the baroque/classical vein and so he jumped on this opportunity, because he loves playing the electric violin and never gets the chance to explore it."

The basis of the 17-stave, 50 instrument orchestral piece first started at the digital music suite with Davies, his lyrics, and "Great Southern Land" music, along with Tognetti and his improvisational skills on the electric violin.

"We worked out a structure and a content and then I mocked up a kind of orchestration using synths, and then Chris Gordon put his ideas into it.

"I came up with the idea of marimbas and basset horn which is like an antique clarinet, not used very often these days."

Davies describes the piece as "quite rhythmical" with many changes to its fabric.

"It goes through a lot of stages. For example, there are a couple of string chorales which are quite beautiful. But the opening of it is quite an assault. It starts with seven Taiko drummers which are these large Japanese drums," he says.

Coordinating this section is Ian Cleworth, a percussionist with Synergy and Taikoz, and one of only a few Western musicians to become a master Taiko player.

Says Davies: "The recording sessions have been interesting, because half of the people in the room were people that I studied with and I hadn't seen them for 20 years."
---
Another article with the title of "Great Southern Man" appeared in THE SUN-HERALD on 31 October 1999 - no author credited. It accompanied the newspaper's "New Year's Eve Millennium 'The House Party' Ticket Giveaway." It also accompanied one of the nicest pictures of Iva Davies to have been printed throughout this rash of press - photo credit: Jon Reid. Please excuse the fold and the weather report showing through the picture!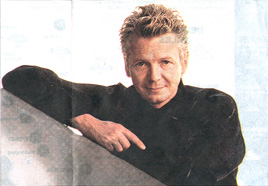 All types of music will be played to usher in the new millennium, but one song is certain to etch itself in the memory of people here and abroad.

It is "Great Southern Land," a smash hit for Icehouse in the early 1980s which has become an unofficial Aussie anthem.

The song, written by rock stalwart Iva Davies, is the centrepiece of a composition which will be played as part of a spectacular $5.5 million millennium celebration on and around Sydney Harbour.

With millions of people watching it live on TV around the world, the 25-minute composition will provide the musical backdrop to a parade on the Harbour of three-storey high Chinese lanterns representing sea creatures.

The combination of the music and the colourful creatures, which will illuminate a 2km stretch of water will precede a massive fireworks display signalling the start of the new millennium.

The composition will be performed live on the northern boardwalk of the Opera House by Davies, violinist Richard Tognetti, the Sydney Symphony Orchestra and a host of other musicians, and broadcast through speakers around the Harbour foreshore.

Davies, who has been working on "The Ghost of Time" for a year, described the composition as "pretty wild and a peculiar mix."

He said it was a great honour to be involved in such a project.

"It wasn't planned. It just evolved because it's the most odd set of elements," Davies said.

"The song 'Great Southern Land' is the jewel in the crown I suppose, but it is a huge piece featuring, among many different things, huge Japanese drums and an electric violin.

"It didn't occur to me, the proportion of what we were doing, until someone recently said to me, 'What is it like to have written the song of the millennium for Australia?'

"It is a fantastic thing and a great honour."

The performance is one of many attractions which will captivate a crowd expected to be 1.5 million.

A television audience of 2.5 billion around the world is expected to tune into the celebrations, which will also feature a fireworks display at 9pm.

Channel 9 will celebrate the coming of the new millennium with a 27-hour live telecast of the event, one of the biggest and longest in television history.
---
Australia's WHO WEEKLY featured an article on Iva Davies in their 15 November 1999 issue, written by John Barker.

Excerpt - When ABC Radio's John Doyle touted Icehouse's 1982 pop hit "Great Southern Land" as our national anthem, its composer, Iva Davies, was chuffed, but "Advance Australia Fair" already had that gig, so he thought no more about it. Then, early this year, Ignatius Jones, creative director of Sydney's millennium celebrations, suggested to his old friend Davies that the song be performed live in the final minutes of 1999 for a potential international TV audience of 2.5 billion. That made sense. "It was a great idea," chuckles Davies, whose plans to spend a quiet evening with his family on Dec. 31 were suddenly on hold.

So, on New Year's Eve, as Jones's three-storey-high silk-and-steel spectral lanterns drift across the harbour, Davies, 44, will be on the northern forecourt of the Opera House to farewell the 20th century and hail the 21st with, he says, an "extended huge, orchestral, sort of avant-garde" 23-minute version of "Great Southern Land," renamed "The Ghost of Time." Helping singer-guitarist Davies to be heard around the world will be the Sydney Symphony Orchestra, together with Australian Chamber Orchestra virtuoso Richard Tognetti on electric violin, Japanese Taiko drummers Rom=Pari and ex-Icehouse bassist Guy Pratt.

At Davies's "treehouse," a studio above his garage on Sydney's northern beaches where he is surrounded by consoles, guitars and ARIA awards, he says he won't be fronting "a conventional orchestra" on Dec. 31. "It has these weird and wonderful instruments like a basset horn and strange configurations of strings. 'Ghost' is quite a contemporary piece."

Ignatius Jones agrees. "I suppose it's the first real piece of post-modern Australian classical music... it pulls in so many things and makes them sit together in a way that works," says Jones, former frontman for bands Jimmy and the Boys and Pardon Me Boys. "The two big international songs that say Australia are Men at Work's 'Down Under' and 'Great Southern Land' and, really, 'Great Southern Land' is so perfect for this. It is exactly the right tempo for the parade."

During a recent period of relative calm when Davies savoured fatherhood, surfed and worked on songs with Japanese drummer Yukihiro Takahashi and reggae musician Junior Delgado, he recorded his first album of self-penned compositions in six years. The as-yet-unnamed album was recorded in Sydney, London, Manchester and Tokyo. "It's taken a while," says Davies, who enjoys the autonomy of working alone but this time has co-written with "lots of people, from punk legends to people who program computers."

To Ignatius Jones, Davies's musical eclecticism is "awesome... In Australian rock people tend to exist in pigeonholes and once they've done one thing, that's all they ever do. But every new thing Iva does he does really, really well."

But for all his past success and hopes for the new album, due out early next year, Davies knows his moment of truth falls on New Year's Eve. With only weeks to go, he's confident "The Ghost of Time" will be a success, but perhaps betrays nervousness when he grins, "I'll be very happy when we get to midnight and I can have a glass of champagne."
---
It's finally been announced - "The Ghost of Time" 4 track CD will be on sale in Australia and New Zealand on 6 December 1999!
This release will be on the Roadshow Music Australia label, distributed by Warner Music.
Search
Please enter a search string | and click the Search button.