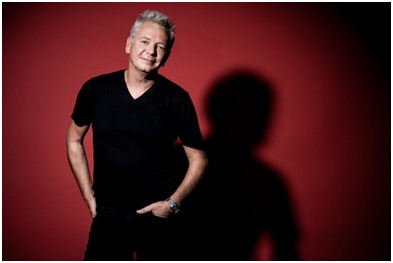 ICEHOUSE return to Queensland for
two exclusive shows with Models as special guests
"Ever since the early days of the band, back when we were Flowers, ICEHOUSE has had a great reception from Queensland audiences" enthuses ICEHOUSE frontman Iva Davies. "When we started touring again a couple of years ago I asked myself if that would still be the case. It turns out that whether the venue has been a winery or a theatre or a festival or at pubs and clubs, the answer has been, 'Yes, they are!' Everyone associated with the band is looking forward to getting back up there in January, and seeing our friends and fans at the shows."
ICEHOUSE's catalogue of anthems, hits, musical experimentation and high level of musical dedication has made them a household name in Australia with an amazing eight top 10 albums and over thirty Top 40 singles including We Can Get Together, Electric Blue, Hey Little Girl, Crazy and the alternative national anthem to Australians everywhere, Great Southern Land. They have sales records equivalent to platinum albums locally and internationally.
The re-releases of all the albums from the band's catalogue of recordings plus the platinum-selling White Heat: 30 Hits compilation prompted Davies to return the band to live performances after a 16 year hiatus. The results in 2011 and 2012 were outstanding – sell-out shows, screaming fans, encore performances and a revitalized audience for this iconic band.
In October 2012 ICEHOUSE sold out shows in South Eastern Queensland on their Primitive Colours tour and now they've been invited back again and as Davies' comments above attest, the band are looking forward to it.
Iva is also pleased that Models will be on the shows as the two bands shared similar beginnings. "We used to see one another all over the country as we developed our sound and they developed theirs. I'm looking forward to seeing and hearing Sean, Andrew, Mark and Barton perform those songs in this new era."
So what will the fans see that is different? To that, Davies laughs and says, "We have such a lot of songs to choose from that we can move them around so that each show can be different. Our crew are preparing new visuals and we've got a few musical surprises to throw in to celebrate the 2014 Summer. It will be a lot of fun and we look forward to seeing everyone there."
ICEHOUSE with special guests Models

Friday 17 January – Southport RSL, Gold Coast QLD
Tickets available from the venue or call (07) 5552 4200

Saturday 18 January – Eatons Hill Hotel, Brisbane North, QLD
Tickets available from the venue or call (07) 3325 6777
Tickets also available from Oztix - 1300 762 545
Re Models: Kelly, Duffield, Price & Ferrie are back to showcase new material and play some old favourites.
Models celebrate the musical adventurousness, sly humour and pioneering nature of the early Australian alternative music scene with a sound that is as fresh now as it was then. 2010 saw Models inducted into the ARIA Hall of Fame after gaining notoriety in the early '80s with ground breaking mini album 'Cut Lunch', but it was their long player 'The Pleasure Of Your Company' featuring the hit 'I Hear Motion' which cracked it commercially for the band.
Now, 25 years after the heady days of massive hits & platinum albums in the '80s, 2014 will see the band release a long awaited album of new material. In December, Models will be previewing new tracks from the album at the upcoming shows and will have a special, limited edition EP for sale at the gigs.
This is the chance to see the band back in action, playing the tracks you know and love and some brand spanking new music to satisfy the most hard-core Model fans - it's been years in the making and you won't be disappointed!