30th December 2005
According to imdb.com, Mary Bryant was broadcast in Hungary on this date.
25th December 2005
We'd like to wish everyone a very Happy Holiday season! May 2006 be a fantastic year for us all!
26th November 2005
And the winner of the CITY OF MELBOURNE AFI AWARD FOR BEST TELEFEATURE OR MINI SERIES is... The Incredible Journey of Mary Bryant, Andrew Benson, Greg Haddrick (Network Ten)
22nd November 2005
Iva will be talking to James O'Loghlin this evening at 8.15pm EST on Sydney radio station ABC 702. James will be discussing composing music for films with Iva.
2nd November 2005
Excerpts from Songwriters Speak appears on the Sydney Morning Herald website. Iva's piece begins on page four.
1st November 2005
Iva was interviewed and played a beautiful acoustic version of "Great Southern Land" live on Radio 2 last August. Look! Listen! (soundfile is currently unavailable, may be back online December 2006)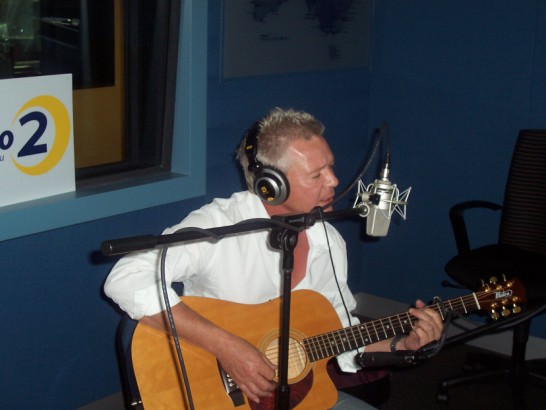 30th October 2005
Part one of Mary Bryant screens on Channel Ten in Australia tonight; part two will be shown tomorrow night.
27th October 2005
Iva is one of four songwriters included in an article in yesterday's Sydney Magazine (which is a free inclusion with today's Sydney Morning Herald). The article explores the influence of Sydney as a place in various iconic songs. Great Southern Land, the Flowers album, Angel Street & Man of Colours are discussed.
26th October 2005
Some bits and pieces:
Iva was interviewed by James O'Loghlin on 2BL 702 ABC Local radio tonight between 8 and 8.30 about the oboe.
Read a great story of survival on this website dedicated to the Glasgow Apollo.
25th October 2005
"Surgery" available for download at www.icehouse-iva.com.

2nd October 2005
An update from Iva:
"The Mary Bryant Soundtrack is due for release on October 21st. Initially it will only be released in Australasia although discussions in Britain may result in wider releases. It will be available through Warner Music Australia but I daresay various Internet retailers will be able to provide access to overseas buyers."
1st October 2005
According to amazon.com, Jarboe's The Men Album will be released on October 11. This long-awaited collection of songs has been in the works for six years. Iva lends his talents to this recording.

28th September 2005
Guy Pratt will be performing his show My Bass and Other Animals in London on October 24th!
If you attend Guy's show, please share your experiences with us. It should be a great time - Guy is a fantastic story teller and truly very funny!
26th September 2005
New news from Andy Q:
Andy will be the featured artist on Wendy's Hall of Music, on American Radio Network's Kaleidoscope Magazine. The show will air on Wednesday October 5th, at 5.30pm PDT.
If you're in the Los Angeles area on Friday October 21st, we suggest you check out Andy and his good friend Chris Thompson who are participating in a star-studded night at the Hard Rock Cafe at the Beverly Center benefiting the ABC Trust. Jimmy Page and Brian May are among those behind this charity organization, which helps homeless children in Brazil. Queen are playing the Hollywood Bowl the next night, so who knows what other exciting celebs could be there! [Thanks to Young Red]
21st September 2005
The Australian Collectors' Edition DVD of Razorback is now available! It contains more features than the UK version released last April, including a documentary featuring interviews with Iva and various members of the cast and crew. [Thanks to Pete, Dags, S F]
4th September 2005
Happy Father's Day! The September issue of Australian Women's Weekly features a full page colour picture of Iva and his children, along with a few quotes as part of a Father's Day tribute to six famous Aussie dads. [Thanks to S F]
23rd August 2005
We've received reports that Channel Ten in Australia have started playing commercials for upcoming "big event TV" that features Mary Bryant. No dates yet; however, it's meant to be this year. [Thanks to Wil]
15th August 2005
Congratulations to the new Mr. & Mrs. Qunta! On July 12th, Andy and Theresa (Young Red) tied the knot on the Queen Mary in Long Beach, CA. Family and friends came in from all points of the globe, and the entertainment at the reception in Costa Mesa was a star-studded event! Here are more pictures of the day. [Thanks to Young Red]
Pink Floyd site Brain Damage has a review of Guy Pratt's new stage show, My Bass and Other Animals. Reuters had another article on the same subject. [Thanks to Damo and Tricia]
2nd August 2005
The launch party for Debbie Kruger's book Songwriters Speak was held today. This new book features an in-depth conversation with Iva Davies (and 44 other Aussie songwriters). This is a fantastic look into Iva's songwriting process! [Thanks to S F and Damo]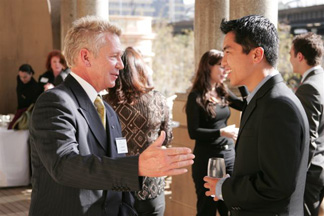 11th July 2005
Iva attended the 2005 Australian of the Year Awards. Here, Iva is seen congratulating Young Australian of the Year, Khoa Do.
19th June 2005
Iva checked in with some details about last night's Ice Ball 2005 performance:
"The charity was for Cure for Kids which is a cancer research cause. The event is a annual fundraiser and this years theme, The Ice Ball, was no doubt related to our involvement. It took place in the Hordern Pavillion which is within the Fox Lot in Moore Park. I believe the last time I performed there was when Flowers supported
Roxy Music on the Flesh + Blood world tour.
"The line-up was:
Paul Gildea - guitar
David Chapman - keyboards
Paul Wheeler - drums
Steve Bull - bass.
"The set was:
Great Southern Land
Crazy
Hey, Little Girl
Can't Help Myself
We Can Get Together
Sorry
...followed by a very unprepared encore of Jean Genie (we think it succeeded though)!"
Here's a photo of Martin Armiger with Iva Davies, Christopher Gordon and Simon Leadley from the Gallery section of the Sydney Film Festival site: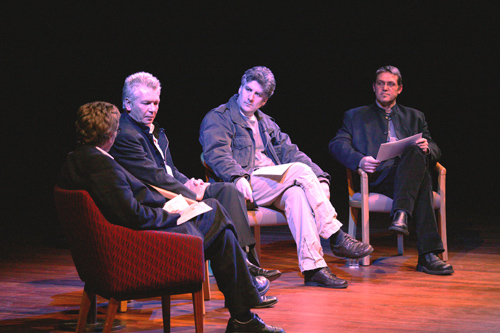 8th June 2005
Iva was interviewed this morning on radio 2BL by Angela Catterns. With Iva in the studio was Simon Leadley. They discussed the upcoming lecture in Sydney and their experiences with Master and Commander. They played some of the soundtrack and Iva talked over it explaining the concepts/processes and what was happening. Razorback also got a brief mention. [Thanks to S F]
30th May 2005
Iva has asked us to pass along some news concerning his very busy itinerary. To start things off, he and Tonia attended the APRA awards on May 30 in Sydney and had a great night.
On June 1st, Iva will be giving an interview for the SBS program Movie Show. His spot is scheduled to go to air in two weeks.
A new Coastcare campaign, launched to coincide with World Environment Day on June 5th, is calling for people all over Australia to "think globally and act locally". Iva has been chosen as an ambassador. Read more here and here.
On June 18th, Iva will be attending the Ice Ball 2005. This is a charity event for the organization Cure Our Kids, which raises money to help in cancer research. Iva told us that he will be playing a 40 minute set.
On June 19th, Iva will be taking part in the Sydney Film Festival. Iva, along with Simon Leadley, will be giving a lecture on creating the music for Master and Commander.
If you are able to attend either the Ice Ball or the lecture at the Sydney Film Festival, please share your experience with us.
18th May 2005
Iva checked in with some news about the Mary Bryant soundtrack project:
"I'm pleased to be able to let you know that I have been flat out working on a new project and I can now let the list know why I've been quiet.

"Since the end of February I have been working 16-18 hours a day, seven days a week without a break. On 23rd of May I am due to deliver the final pieces of what will be an enormous 2 hours of music for the large budget tele-movie "Mary Bryant". I am now, as you can imagine, in the last stages of what has been the most grueling schedule and set of deadlines I have ever faced.
"The pieces stylistically cover a fairly wide range from synthesizer and sound design to full Orchestral. We have used the Sydney Symphony Orchestra for these recordings. I have also included a liberal amount of Cor Anglais in the score which I have performed myself.
"There is very likely to be a Soundtrack Album and I will begin compiling it once the immediate deadlines are met.
"I think it also probable that at some stage the film will be released on DVD.
"More information may be found at imdb.com."