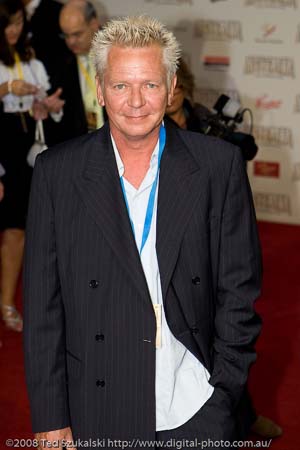 19 December 2008
Carols in the Domain, Saturday 20th December
Woolworths Carols in the Domain is Australia's largest, and one of Sydney's most loved Christmas events. Every year tens of thousands of people come together to celebrate the true meaning of Christmas, whilst raising funds for The Salvation Army. Those who can't make it to the Domain can enjoy this spectacular concert right across Australia on the Seven Network.
Iva will be one of the performers at this year's "Carols in the Domain." He will be joined by his fellow "Battle of the Choirs" judges and the winning choir from Newcastle.
18 November
Singer Iva Davies arrives for the world premiere of 'Australia' at the George Street Greater Union Cinemas, photograph at left by Ted Szukalski.
14 October 2008
Challenge raises $20,000, by Gemma Seymour, Penrith City Star
MORE than $20,000 was raised at the inaugural Nordoff-Robbins Whitewater Rafting Challenge on Friday. SEI Carbide Australia took out first place, while the Penrith City Council raft placed second. A number of other Penrith businesses battled it out in the water on the day, organised to raise money for the Kingswood-based facility.
A guitar signed by Neil and Tim Finn, Iva Davies, Jimmy Barnes and Jenny Morris was auctioned for $1800, going to a silent bidder.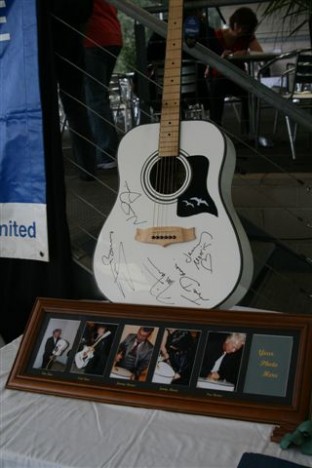 10 October 2008
Neil & Tim Finn, Jenny Morris, Jimmy Barnes & Iva Davies sign guitar for charity
The Guitar Factory in Penrith have very generously donated a beautiful guitar to Nordoff-Robbins to auction which will raise much needed funds for music therapy. Neil & Tim Finn (Crowded House), Jenny Morris, Jimmy Barnes and Iva Davies (Icehouse) all happened to be in town at the same time and have signed this guitar (pictured, left). The guitar will be auctioned at the Nordoff-Robbins White water Fundraising Day which will be held on 10 October 2008. More photos of the night can be seen on flickr.
4 October 2008
On October 4, Albert Music and SonyBMG will celebrate the extraordinary musical legacy of The Easybeats, by releasing EASYFEVER: A Tribute to the Easybeats & Stevie Wright, a superb 2CD album in celebration of this ground-breaking group.
The band – Harry Vanda, George Young, Stevie Wright, Dick Diamonde and Gordon "Snowy" Fleet – formed in Sydney in 1964 and almost immediately 'Easy Fever' took Australia by storm and was soon to captivate audiences overseas. Their meteoric rise to stardom was due to releasing hit single after hit single, including classics such as Friday On My Mind, Wedding Ring, She's So Fine and Good Times. Their success saw them consistently get mobbed at airports, chased down streets and even tour internationally with the Rolling Stones.

Among the 20 tracks on this tribute CD is a lovely version of "Sad and Lonely and Blue" by Iva Davies.
12 September 2008
From the Sydney Morning Herald:
COVER TO COVER, 9am Sun, Vega FM 95.3: Will Icehouse re-form? Iva Davies has a yak with Barry Bissell who delves into the back catalogue of Led Zeppelin, Phil Collins and Skyhooks, among others.

24 August 2008
Iva has confirmed that he will be performing this coming Friday 29 August at Shine - the Gala Dinner for the Special Olympics Upper North Shore region. Iva will be performing an acoustic version of the song "From Little Things Big Things Grow." It is a well known song written by Paul Kelly and Kev Carmody. There is a possibility that Iva will be joined by his daughter, Brynn.
20 August 2008
Getting their names up in neon lights, by Sunny Burns, Sydney Star Observer
For the past few months TV Rock has flaunted its music across the European festival circuit, but is now ready to re-embrace Australian clubs with another addition to the Neon Night series and two new tunes.
"We have two new singles in the can already. The next one we are testing at clubs at the moment is called Happiness," DJ and TV Rock member Grant Smillie told Sydney Star Observer.
"It's got a rare and unreleased sample from a Bob Marley track which never actually saw the light of day.
"The next one after that we've teamed up with Iva Davies from Icehouse and, funnily enough, even though our styles are different they both seem to go hand in hand — it's a great summer record."
So what's the secret behind making a summer anthem? Smillie says there are a few rules to be followed.
"Catchy vocals that people can sing along to fairly quickly and understand what it's all about," he said.
"It also needs to have a beat because you can never just have a strong vocal — you need music to back it up.
"The melody needs to be very strong so once people hear it they feel that they've known it all their life. The vocal becomes the most important part because it's what they remember."
8 August 2008
From an article by Megan Miller in Melbourne's Herald Sun:
A hectic schedule is to get busier for TV Rock's Ivan Gough when his first child is born in October. The DJ has been busy putting the finishing touches on a series of tracks back home in Melbourne, while fellow TV Rocker Grant Smillie has been flogging their club anthems including "The Others" and 2006 smash "Flaunt It" across Europe. While Smillie was away, Gough presided over the production of fresh tracks, including a remake of Bob Marley song "Happiness", with local vocalist Jason Heerah, and an original, "Stars", voiced by Icehouse frontman Iva Davies.
3 August 2008
Seven's Battle of the Choirs came to an end last night, but what was most exciting for Icehouse fans was at the very the beginning of the grand final show! Iva & Icehouse (Paul Wheeler, Paul Gildea, David Chapman, Steve Bull) performed "Great Southern Land" with full choral backing by the three remaining choirs. It was a beautiful performance!
Here are a couple of links to this performance on YouTube, with thanks to aussieshep19 and chromaticsuspension for uploading them!

Icehouse - Great Southern Land (BOTC Australia Grand Final)
Battle of the Choirs Grand Final part1 of whole show
20 July 2008
Aussieshep19 has been posting Battle of the Choirs video clips on YouTube each week. A few of the clips include the judges' comments. We don't know how long these videos will be available, so watch them while you can!
The semi-final contest airs on 27 July, followed by the grand final the following week.
29 June 2008
Rewind 1983 - Iva Davies, by Paul Connolly, The Sun-Herald (Sydney)
Life goes on
He was touring Europe with David Bowie and releasing smash-hit singles with his own band but life wasn't all rock'n'roll for this classically trained musician and man of many colours.
In 1983, we [Davies' band, Icehouse] were supporting David Bowie on the European and British legs of his Serious Moonlight tour, which was the biggest Bowie tour ever. This photo was taken backstage, outside our dressing room - a caravan - during one of three outdoor shows in Milton Keynes [in Buckinghamshire, south-east England]. The shows were huge, with about 70,000 people for each one.
We hung out with Bowie's band over a couple of months. He always seemed very personable to me and I caught up with him years later when, surprisingly, he and his band Tin Machine played a secret gig at an unlikely little venue in Whale Beach [Sydney], just down the road from my house.
But the most memorable time we spent together was the night we nearly got killed. It happened in a club in Amsterdam when Bowie was rushed by a crowd. We got caught up in the crush. We literally had to be passed out over the top of this riot of fans. Bowie was used to crowds but even he was shocked by what had happened. It was frightening and something I'll never forget.
That period was a very exciting time for us. Man Of Colours [Icehouse's sixth and most successful album] was still a few years away but even then we were well received at home and in Europe, and we were all gobsmacked by our success. At home it seemed more pedestrian perhaps because we were living our normal lives. I still did normal things, like ironing my girlfriend's dresses.
Ever since high school [in Sydney's Epping] I've had two, parallel lives. One was going to the NSW Conservatorium of Music for oboe lessons and playing in a professional orchestra in a dinner suit that I got from St Vinnie's for $7. It's the only dinner suit I've ever owned. The other was playing popular music in folk clubs in my torn jeans and ugh boots. I gave up playing the oboe when it was wrecked by an instrument repairer, and that kind of threw me onto the popular music route.
I wasn't the hard-living rock'n'roll star. The horrible reality is that if you take the job seriously, which I did, you can't go out clubbing because you lose your voice. Of course we had our moments but as a rule, I refrained due to a professional ethic. Perhaps I inadvertently gave the band their ethic, too. Maybe I got that from being a professional musician prior to being a rock'n'roll musician.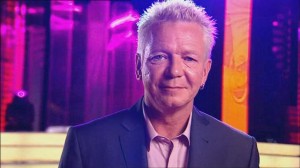 Fast forward
I still live in Whale Beach with my wife, Tonia [a dancer whom he met in 1985 when he scored the Sydney Dance Company's ballet Boxes], and children Brynn [14] and Evan [12]. In terms of my career, I still have these parallel lives and there are people who can't come to grips with that. In fact, I've been disowned by the classical fraternity because I dabbled in popular music. I work on a variety of projects. I'm judging on Seven's Battle Of The Choirs, I've written film scores [such as Master And Commander] and I composed the music for the opening ceremony of the 2006 Asian Games [in Qatar]. I'm still very comfortable playing with Icehouse. We haven't lived in each other's pockets, so it becomes a novelty to get together.

27 June 2008
Iva attended the 2008 Golden Stave Charity Luncheon at the Hordern Pavillion. Photos can be seen on JAMD.
26 June 2008
Iva Davies goes into Battle, by Cameron Adams, heraldsun.com.au
Iva Davies is known to TV audiences now for Battle of the Choirs, but the former Icehouse frontman remains proud of his '80s mega-mullet. Plus, should his band reform?
You've turned down reality TV in the past, but now you're judging on Battle of the Choirs. What made you say yes?
This appeals to me because I don't think the people went into their choirs to be TV stars or music stars or dancing stars. They just love doing what they're doing and they'd do it whether there was a TV show there or not.
Reality-TV shows love tension between the judges. How's the vibe on Choirs?
There have been some tense moments when the judges have been divided. I don't watch any reality TV, I'm a sucker for a good documentary.
Your fellow judge Charli from Hi-5 said she was the only one who knew how Pink's Get the Party Started should be sung. True?
I'm vaguely aware of that stuff, I have children who are 14 and 12. It's not that I study the charts any more, but a lot of those songs have filtered through. That Mika song (Grace Kelly) was one of my son's favourites for months.
Do you listen to much new music?
I was a devotee of Pink Floyd and more recently Radiohead, but I've disappeared into that wonderful middle age of life where none of these things become a passion to follow. I think that's the case with many professional musicians, what's recreation to other people is work to us.

What are your memories of Icehouse's induction into the ARIA Hall of Fame two years ago?
That was the first time my children had ever seen the band perform. My daughter saw an interview from about 1980 and said: ''Dad, I want those sunglasses." Apparently they're back in fashion.
So the current status of Icehouse: dormant?
Not necessarily. Last year and January this year we did a couple of private, corporate shows. They were great fun. So we're not dormant, but as far as live touring in front of the public, we haven't done that for a very long time.
What would it take to get you back on stage?
A good deal of confidence on my behalf. It's an extremely difficult thing to have to sing for two hours and in sheer practical terms I'd have to be a lot fitter than I am now.
Have there been a lot of offers?
There have been some quite high-level offers of tours, as well as the retro packages like Countdown. There seems to be some interest in the '80s going on. Promoters want to reboot everything on a massive scale but if I wanted to do it I want to do it properly.
How close have you got to saying ''yes"?
I've got too much on at the moment. I'm not thinking about that until next year.
A few unreleased Icehouse songs leaked on the internet. Your God Not Mine is one . . .
I wrote and recorded an album a while ago. That song was written in 1998. We chose to put that up there because there's still quite a strong fanbase over the internet, I guess they don't get too much new stuff from me. The album is in various states of unfinished, but I keep getting projects which interrupt me working on it. I'm a different songwriter than I was, in terms of maturity, I'd like to think that still has a value. I wouldn't like to be just endlessly trawling through the past.
You got famous in an era when people still legally bought music. What's your take on downloading?
Like a lot of people of my generation I'm glad I'm not in the prime of my CD-selling career. At the minute things are very fluid.
What about music on the internet?
It's a very powerful thing in one way. The downside is every man and his dog can make a recording and put it on the internet. As a result you have an absolute tsunami of mediocre and sub-standard music available on the internet.
Record companies effectively used to be a filtering system, if they were prepared to invest in you, you could go into a recording studio. That's where I came in, I wanted to get in a recording studio and the only way to pay for that was to become popular and have a record company enthusiastic enough to fund it.
The upside is there's incredible interest in music because people can do it themselves. So many kids at my children's school are forming bands, music is a very important part of their lives in a way it wasn't among my peers.
You own the rights to the Icehouse back catalogue. That puts you in a fairly rare club.
Yes, it's extremely rare, I have to give credit to good management over the years.
Man of Colours is still one of the highest-selling albums in Australia.
As far as I know it's the still the highest-selling album by any Australian band.
No Icehouse greatest-hits album is available. Why?
There's been any number of attempts to put out a best-of and I've been resistant thus far. Last year I started remixing all the singles in surround sound. There are about 36 video clips, and my intention is to put them out on a best-of DVD rather than a CD. I'm one of the people who think we've moved on from CDs by now.
Do any of the old videos make you cringe?
I don't really identify with them. If I did maybe I would cringe. I don't recognise myself as a 24-year-old. It's the dim, dark past.
You've said you're happy Great Southern Land seems to have overtaken Electric Blue as the song Icehouse are most known for.
Electric Blue I wrote with John Oates (of Hall and Oates). It was very successful but it wasn't necessarily reflecting anything to do with my life or feelings. Though I'm very proud of it, it's not one of those songs I have a personal affection for. For that reason I'm glad Great Southern Land has taken over. I took the prospect of writing a song about my native country very seriously. I thought it was a large risk so I was extra careful.
Do you recognise yourself with that mega-mullet in the Electric Blue video?
I was very proud of that hair and I remain proud of it! It took a long time to grow that hair.
There was a cinematic quality to Icehouse which resulted in you doing soundtrack work. Do you still get offers?
A few are in the works. Strange things happen in terms of my telephone. (Soundtracking) Master and Commander came about because I picked up the phone in my little studio in Whale Beach and Peter Weir was calling from location in Mexico.
Any production offers?
I had an intriguing production offer recently, a very well-established and highly successful Australian band. I hope that comes off.
How's the recognition factor now you're on a high-rating reality-TV show?
I live in a small community, and they're as surprised as I am that I'm on TV.

19 June 2008
Iva Davies Sees No Divide Between Classics And Rock, Siobhan Duck, Herald Sun (Melbourne)
For years Iva Davies lived a double life, by day in a dinner suit, playing the oboe in a classical wind ensemble group, by night, a scruffy musician playing acoustic guitar.
Davies, who rose to fame as the frontman with 1980s rock band Icehouse, says he has never understood why musicians must be forced to specialise in one genre.
"People seem to feel the need to pigeonhole you," he says. "As a result I have never been able to establish full rock and roll cred because of my training as a classical musician.
"At the same time the classical fraternity have kept me at a distance because I dared to dabble in rock.
"I have never really understood the need to choose one music discipline over another. It's all music to me."
Davies is appearing as a judge on Channel 7's new reality series Battle of the Choirs.
The show, as with Davies himself, straddles two different musical genres -- reinventing the traditional view of choirs as slightly-daggy, psalm-singing church groups to rock 'n' roll-belting musical performers.
Davies, who grew up in a musical family where both his parents were avid choir singers, was eager to be part of the new show.
He says he has been asked to judge several musical reality shows before Battle of the Choirs but refused because he wasn't interested in being part of programs that were celebrity vehicles or aimed at manufacturing stars.
"I have been approached a few times to be part of these sorts of television judging panels over the years," he says.
"What I liked about this one was that it was about people who were doing it for the love of it, not for their own success."
Davies joins former Hi-5er Charli Delaney, Choir of Hard Knocks mentor Jonathon Welch and choral music expert George Torbay on the judging panel. The series is hosted by Sunrise's David Koch.
Davies says Battle of the Choirs will revolutionise people's perception of choirs with groups singing popular songs by Pink, Queen, AC/DC and Kylie Minogue.

18 June 2008
It Wasn't Great Southern Planned, Siobhan Duck, Herald Sun (Melbourne)
The mass appeal of Great Southern Land remains a total mystery to the man who penned it.
Iva Davies says he wrote his most famous song in an afternoon. Though he is very fond and understandably proud of the song that many have suggested would make a better national anthem than Advance Australia Fair, Davies says he never imagined it would become such a huge hit.
"Great Southern Land continues to astound me," he says. "When I wrote it, it was just another song for one of my albums.
"I have no idea why, pardon the pun, it struck such a chord with people.
"It has done from the very beginning.
"I remember the recording studio's reaction to it -- they were so excited.
"I didn't see it as a single -- at five minutes long. And it wasn't like you could dance to it."

16 June 2008
Iva attended the 2008 APRA Awards.
15 June 2008
In fine voice - Icehouse frontman Iva Davies sings the raises of Battle of the Choirs, by Helen Tsitouris, The Sunday Mail (Brisbane)
MORE and more talented singers and musicians are moving into judging a reality TV show.
There's Paula Abdul in American Idol, Marcia Hines in Australian Idol, Red Symons and Dannii Minogue in Australia's Got Talent. Now, Icehouse frontman Iva Davies is making his television debut tonight as a reality TV judge.
Davies, 53, will join Jonathon Welch, founder of the Choir of Hard Knocks in the Logie Award-winning ABC1 program; former Hi-5 performer Charli Delaney; and choral conductor George Torbay to crown Australia's top choir in Channel 7's new singing competition show, Battle of the Choirs.
"A lot of these shows need judges and they need to have some sort of expertise," Davies says.
"One has to offer constructive criticism because part of the process is the way in which these choirs will improve over the series.
"Musicians are obvious choices as judges and they are coming to television and radio in this role. It's more to do with the fact that these shows have become popular. That's really the phenomenon - the fact that American Idol has inspired the production for these kind of shows."
Choirs traditionally evoke the image of angelic children singing sweetly in unison, but Davies says this is far from the truth.
"Look, that's a misconception and some of that might be covered, but choirs are different these days to when I was in high school. They have become contemporarised so they are drawing their songs from current material. A lot of it is exciting and high energy."
The 16 choirs will compete in music genres ranging from pop hits to holiday classics.
They are challenged to perform songs from Kylie Minogue, Meatloaf, Rihanna, Kiss, AC/DC, Scissor Sisters, Stevie Wonder and more.
He laughs when asked if music from Icehouse will be performed.
"That would put them on the spot and it would be horribly unfair."
The winning choir will receive $100,000 and a recording deal with Universal Music. Davies says this is an incentive for regional choirs to stay afloat.
"Community choirs really struggle for resources. What they are solidly aiming at is the money, and that will be critical to their future."
The accomplished composer says he was drawn to the series for personal reasons.
"The choirs are an important part of my background. My parents went to a couple of country towns in regional Australia and wherever they went, they started choirs."
When he was offered a role to co-judge the choirs on their technical ability, cohesion, presentation and entertainment value he had no hesitation in accepting the position.
"This show is different to any other competitive show. It's more than individuals wanting to show their talent off. These choirs have come together by people who share a common interest and do it for the love of it. Pure and simple.
"I grew up with choral music and rehearsals in the home. It was no mystery then, that by the time I got to high school, music became of more importance."
He went on to become an icon in Australian music. Icehouse's record is impressive. Eight Top 10 albums and 20 Top 40 singles in Australia, debuting with Can't Help Myself in 1980 and then went on to record hit singles Man of Colours, Electric Blue, We Can Get Together, Don't Believe Any More and Great Southern Land.
He has hinted that Icehouse have not disbanded.
"Actually, we occasionally get together and do a secret little show. These are for private closed events and not for the public.
"I don't miss the relentless touring. It's extremely hard work, so to be able to have the luxury of doing little gigs here and there is great fun."
He dismisses reports that he is a reclusive rocker. "I'm a very private person but reclusive, absolutely not.
"Any of my children's school community will know that I'm quite happy to be a very visible member of their community. To them, I'm regarded as another dad."
His children Brynn, 14, and Evan, 12, have seen him perform with the band only once, when Icehouse were inducted into the ARIA Hall of Fame in 2006.
"They would find it difficult to picture me anything other than the dad they know. They are aware of the history but they haven't grown up with the touring father."
He continues to be involved in musical concepts and gives workshops to organisations and the NSW Education Department for Year 11 and 12 students.
While the choirs are set to raise the roof tonight, Davies is looking forward to the joy of choral music.
"There's very few things more pure than the human voice. The idea that people get together to sing is very inspirational. I'd be very surprised if numbers do not swell in local choirs."
Cover of TV Guide, Sunday Mail (Brisbane)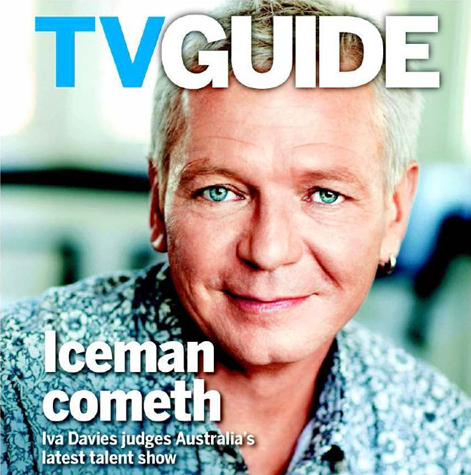 11 June 2008
Special event for extra-special athletes, by Crystelle Coulon, northshoretimes.com.au
SPECIAL Olympics Upper North Shore Sydney Region is hosting a gala fundraising dinner entitled Shine, on August 29, in the ballroom at the Sydney Convention and Exhibition Centre, Darling Harbour.
Shine has been chosen as the theme to highlight the outstanding personal efforts and achievements of the Special Olympics athletes in their chosen sports.
The Gala Dinner aims to raise funds to help provide opportunities for people with an intellectual disability to participate in sport at all levels including competition.
It will be a wonderful evening with great entertainment from Australian celebrities, such as John Foreman, Iva Davies and Tim Campbell and dances from the popular Special Olympics Performance Dance Group.
Marcia Hines, Ricki-Lee and Damien Leith may also attend.
Special Olympics is a global organisation represented in 121 countries. It is dedicated to enhancing the lives of people with intellectual disabilities through the provision of its sports programs.
All funds raised at the Gala will directly support programs for our athletes.
More information is available at the Special Olympics website.
8 June 2008
Stars Shine For Charity, by Jonathon Moran, The Daily Telegraph (Sydney)
New Zealand's famed Finn brothers were in town last week, helping to raise funds for the Art Of Music Charity Ball.
Neil and Tim performed at the charity event, which raised more than $350,000 to provide music therapy programs for children with physical and intellectual disabilities as well as emotional and behavioural issues.
Also there were Australian music veterans Iva Davies, Jimmy Barnes and Jenny Morris.
Pictures of the evening can be seen on flickr.
25 May 2008
Rocker in tune with role, by Fiona Byrne, heraldsun.com.au
Rock and pop identity Iva Davies will head the judging panel on Channel 7's new series, Battle of the Choirs.
Davies, the lead singer and songwriter of Australian band Icehouse, will be joined by former Hi-5 member Charli Delaney, George Torbay and Jonathon Welch.
David Koch is the show's host.
Davies said signing on as a judge was just a further example of the "mad projects" he had chosen to do during his career.
"My father and mother started choirs wherever they moved through regional Australia as I was growing up. They were community choirs like the ones competing in this contest," Davies said.
"It (choir singing) goes back a long way in the culture of my life and family, so that is why I am interested in it."
Davies doubted he would turn into the show's "nasty" judge.
"I think as a judge I will fall squarely in the middle," he said.
"I don't think there is any risk I am going to end up being the hard judge.
"And by now, of course, I have done such mad projects that are totally unrelated to anything, but vaguely related to music, that I think the Australian public won't be surprised in the least if they see me attached to some other mad project."
Davies's body of work is diverse, to say the least.
Along with top 10 hits with Icehouse, he has written a contemporary ballet, the score to Russell Crowe film Master and Commander and part of the music used in the opening and closing ceremonies of the Asian Games in 2006.
And Davies would not rule out Icehouse reforming and touring.
"I never say never," Davies said.
"Last year we did a couple of performances that were private events and it was pretty good fun - so it is certainly a possibility."
From the Sydney Sunday Telegraph:

24 May 2008
Iva has been chosen to be one of the judges on Channel Seven's new reality show, Battle of the Choirs! The show begins filming in June.
22 May 2008
Especially Happy Birthday wishes to ID from Spellbound!!
Iva had a busy day for his birthday, promoting the Salvos' Red Shield Appeal. This was the scheduled itinerary:
8.30am 6PR Perth. A feature interview on the breakfast program with Millsy and Tony Mac.
8.40am 2CS Coffs Harbour, NSW. A feature interview with Ian Henderson on the breakfast program.
9.00am Live on air with 9am with David and Kim.
9.40am The Pulse, Geelong, VIC. A feature interview with Michelle Suiter.
10.00am 2LT Lithgow, NSW. A feature interview with Ben Hogan.
10.45am Heart 107.3FM Hobart. A feature interview with Charles Wooley.
11.20am GME, Broome, WA. A feature interview with Sandy Dan.
11.40am 2GN/Eagle FM, Goulburn, NSW. A feature interview with Craig Pritchard.
1.55pm ABC Adelaide. A feature interview with Carole Whitelock.
2.30pm ABC Darwin. A feature interview with Annie Gaston on the afternoon program.
3.15pm 2AY Albury, NSW. A feature interview with Richard Perno.
4.30pm Live on air with the Channel 7 Afternoon News, interviewed by Jessica Rowe.

In addition, Iva taped an interview that was later aired on the Channel Nine National News (nightly news bulletin).
21 May 2008
On the Susie show today: Rock legend, singer and composer, Iva Davies, of Icehouse fame shares some amazing career highlights and sings his classic hit "Great Southern Land."
5 May 2008
Iva will be participating in the Salvation Army's Red Shield event this year. ID will be the "face" or spokesperson for the event along with General Peter Cosgrove. The Red Shield appeal will occur on May 24th-25th. Please keep an eye on the Salvation Army's web site for further details.
Iva says: "I often see the Salvation Army in my local area and it's important to donate to this vital cause. Please consider doing something more for the less fortunate. There's such a big hidden need out there. The Salvation Army is able to transform lives through the work that it does in communities and on the street. The Salvos want to do more and by supporting Red Shield you can help them."
8 February 2008
From blog.icantgetno.com, July 2007:
SCORING THE LEAD
Project Satisfaction is an independently driven film project, directed by Jonathan Worsley.
MUSIC AND SCRIPT
As early as our first draft, we were talking music. We wanted to use it as a storytelling device to propel the narrative and carry subtextual messages revealing the characters' inner thoughts... If the dialogue was 'switched off ' it would be like watching a two hour music video clip. We're in the process of creating a 'music bed,' listening to HUNDREDS of songs, mashing them together. Given the complexity of licensing music, we decided on iconic covers to mark the narrative milestones. The rest will be originals, by both reknowned and undiscovered artists, who'll work with our music producer Iva Davies.
26 January 2008
"TRUE CELEBRATION OF WHO WE ARE" By Aimee Brown. Daily Telegraph (Sydney)
When he penned the lyrics to the anthemic tune "Great Southern Land" in the early 1980s, Icehouse frontman Iva Davies had no idea that it would grow to become one of the most widely recognised songs written about this rugged country.
"When I presented 'Great Southern Land' to the record company and my managers, it had a huge reaction from them," he says. "I've never really understood why it kind of hit some mark ... it was just me sitting down to write an album and it was just another song in a collection of songs."
However, Davies' approach to the song was far from nonchalant.
"One thing I can remember very specifically is how seriously I took the business of writing the song," he says. "I had a self- preservation reason for that -- I was acutely aware of how disastrously embarrassing it would be if I got it terribly wrong. So I was very particular about every word that I wrote. Looking back on the experience I can't believe I actually did that when I was relatively young. I think I was 25."
Such was the reaction to his song that 18 years after it was released, Davies was asked to create a 25-minute composition based on Great Southern Land, called Ghost Of Time, for the Sydney Millennium celebrations.
It was performed by the Sydney Symphony Orchestra in the lead-up to the midnight countdown.
The following year, Davies was invited to be an envoy for the Centenary of Federation celebrations, which led to his involvement with the Australia Day Council.
Each year since, Davies has been an Australia Day ambassador and spends the day in local council areas, this year in Baulkham Hills, taking part in citizenship and flag-raising ceremonies.
"It's really wonderful to be assured every year of how many great contributors to society there are, especially when you get a year full of not necessarily positive events in the news," he says.
"I really love Australia Day for that reason, because every year I get to meet and recognise that there are so many good people out there. It's just really humbling."
On his second year as an ambassador, Davies visited the country town of Wagga Wagga, where he was raised.
"I took the opportunity to go back to Wagga Wagga, which is where I grew up as a boy. It was a great thing," he says.
Davies now takes his daughter Brynn and son Evan, with him when he attends Australia Day events.
Both Brynn, 14, and Evan, 11, have inherited his musical talents.
"My son has just become the music captain of his primary school," Davies says. "He's very talented. I don't want to sound like a gloating parent but I really believe he has a lot more natural talent than I had, so one would hope he does use it because I think he's been given a gift.
"My daughter has as well. She has taken music as an elective. She is a passionate writer of lyrics and a singer, but she is also a pianist and a bass player."
While they may share their father's love of music, Davies' children -- and his wife Tonia -- know that when he is working, his home studio is well off-limits. "It's always been a no-go zone ... when I'm working, I actually do go into another world," Davies says.
"If you ask my wife, on the number of occasions she's appeared at the door, I've nearly jumped through the ceiling, I disappear so comprehensively into it. I just disappear and do what needs to be done."
It is this attitude that has led to Davies' success, which was acknowledged in 2006 when he and fellow Icehouse members were inducted into the ARIA Hall of Fame.
"MY WEEKEND" with IVA DAVIES, Daily Telegraph (Sydney)
( Q ) Do you have a favourite cafe?
( A ) There are a number of good ones around here [Northern Beaches] and if I name one, one of the other proprietors might kill me. All the cafes in Avalon and Palm Beach I frequent often.
( Q ) Do you have a favourite weekend ritual?
( A ) Going to a local cafe for breakfast with my wife and children on Sunday.
( Q ) Where do you get the best view of Sydney?
( A ) From my studio (on the Northern Beaches), looking out over the ocean.
( Q ) Do you have a favourite beach?
( A ) Our favourite spot is what's referred to as Kiddie's Corner at Palm Beach, which is where I taught my son and daughter how to surf. My daughter is now an active member of the Palm Beach Surf Lifesaving Club.
( Q ) What would you recommend to visitors as a must-do activity on the weekend?
( A ) Wait for a beautiful day and catch the seaplane from Rose Bay, which lands up at Barrenjoey at Palm Beach. That is a scenic flight all the way up the coast.
( Q ) What is your favourite part of the city?
( A ) I'd have to say the Opera House because I saw it being built as I caught the train into the Sydney Conservatorium of Music for lessons every week. I ended up playing in the orchestra for the first opera staged in the Opera House. So it was something that I aspired to that I actually achieved.
( Q ) What do you think is Sydney's best-kept secret?
( A ) I think Government House is one of the best-kept secrets because it's a beautiful place, but also is a real reminder of our craftsmanship, and if you can imagine, everything inside it had to be brought out on a tall ship. Very few people I think include that in their tours of the Botanic Gardens and so on. It gets overlooked. I know about it because of the Australia Day functions, but I don't think it's on most people's radars.
( Q ) Sum up your perfect weekend.
( A ) It involves a surf and a bit of beach. It most definitely involves breakfast at a cafe with my children and probably spending at least some time with them sitting around playing the odd Radiohead song on guitars and basses. I've just introduced them to three Radiohead albums. I drip-feed them things I think they should know about.
25 January 2008
"What does Australia Day mean to you?"
TODAY catches up with a few true blue Aussies to see what Australia Day means to them. Iva was interviewed for this segment. Watch the video.
22 January 2008
Iva Davies to celebrate Australia Day in the Shire
Flag raising ceremonies, a fun family festival, competitions and fantastic live entertainment will all form part of Baulkham Hills Shire Councilís exciting Australia Day Celebrations on Saturday 26 January 2008. Special guest and Australia Day Ambassador for Baulkham Hills, Iva Davies from the iconic Aussie rock band Icehouse, will take part in Councilís exciting Australia Day Celebrations across the day. Locals will have the opportunity to meet and talk to this outstanding Australian.
Schedule:
08:00am - North Rocks Park
09:00am - Kellyville Rotary Park
10:00am - Kenthurst Institute Park
11:00am - Annangrove Park
12:00pm - Official luncheon in Council Chambers/Dining Room
01:30pm - Official party moves to Baulkham Hills Centre for Australia Day awards and Citizenship ceremony
02:00pm - Citizenship ceremony
03:00pm - Ambassador Davies departs for a State Reception in Sydney
The best chance to say hello to Iva would be prior to the start of any of these events.