14 November 2010
Here is the set list from Icehouse's performance at the Lexus Ball:
Icehouse
We Can Get Together
Crazy
Electric Blue
Hey Little Girl
Great Southern Land
Love In Motion
Can't Help Myself
Nothing Too Serious
The Jean Genie (encore)
Many thanks to Larry Ponting for providing this information!
13 November 2010
Icehouse performed on stage Saturday night at the Lexus Ball in Perth! We were told the key performer each year is a well kept secret until the night of the performance, which is why we are only now able to share the news. ID pulled out a few songs to perform that have not been heard in a while. Two of those songs are "Love In Motion" and "Icehouse"! We'll report further details as we receive them.
7 October 2010
It's been quiet inside the Icehouse, hasn't it?
Well, that's about to change.
Stay tuned!
28 September 2010
With kind permission from photographer Glen Allsop, here are some great shots of Soda! with special guest Iva Davies at the Living Ocean Inaugural Event on 19 September!
Soda! are...
Evan Davies - guitar, vocals
Remy Tarasin - bass guitar, vocals
Joe Skinner - lead vocals, keyboards
Josh Marks - drums
Soda! played...
"Clocks" - Coldplay
"Dirty Little Secret" - All American Rejects
"The Middle" - Jimmy Eat World
"She's a Genius" - Jet
ID then joined them on rhythm guitar for...
"Are You Gonna Be My Girl" - Jet
"Long Way to the Top" - AC/DC
Soda! then did an encore of...
"Free Fallin'" - Tom Petty and the Heartbreakers
This performance was for a charity event in support of the Sea Shepherd Conservation Society activities in the Southern Ocean. Here are the details:
Living Ocean is a charity inspired by and for the ocean to support people and organisations who help sustain and maintain ocean health and integrity.
Living Ocean's inaugural event will raise funds to support an engine overhaul of the Sea Shepherd vessel 'BOB BARKER' for conservation monitoring in the southern oceans.
THE EVENT!
MC - David Koch, Sunrise
Guest Speaker - Jeff Hansen, Sea Shepherd Australia
Lightworks - Jeff Darling Creative Imagery
Creative Music Event - Richard Tognetti & Derek Hynd's 'Glide'
PERFORMANCES
Bunna Lawrie ( Whale Whisperer)
Soda! with special Guest Iva Davies (Icehouse)
ROCKHOUSE featuring Rob Hirst (Midnight Oil, The Break, Backsliders) drums, Paul Christie (Mondo Rock) bass, Randall Waller (Billy Thorpe & Shania Twain Band) guitar, Dai Pritchard (Rose Tattoo) guitar, Angry Anderson (Rose Tattoo) guest vocalist

5 July 2010
Icehouse will be playing a charity gig on August 7th in Perth. It is for the Strike A Chord For Cancer Foundation. There is also a chance that they may play another show for the same charity in Melbourne in November.
22 June 2010
Iva attended the APRA awards on 21 June. This photo is from the Sydney Morning Herald site.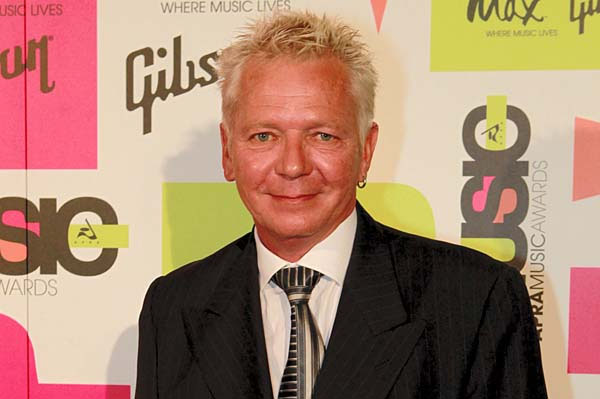 30 May 2010
The Nordoff-Robbins site provided a very nice picture of Peter Garrett, Jenny Morris, and Iva from last night's Art of Music event.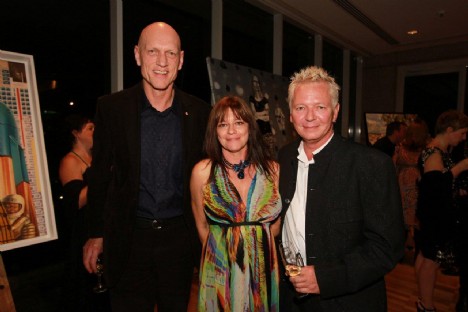 27 May 2010
Iva will be attending the Nordoff-Robbins Art of Music event this Saturday 29 May at the Art Gallery of New South Wales.
Also, Iva is once again involved with the Salvation Army's Red Shield Appeal.
It is great to see Iva involved with so many worthy causes!
22 May 2010
Happy Birthday, Iva!
1 April 2010
Iva will be performing today during the Run with the Law event for the Special Olympics! He has confirmed that he will be performing "Great Southern Land."
27 January 2010
From macarthuradvertiser.com.au:
Icehouse frontman Iva Davies says Australia Day a chance to reflect
by Oliver Murray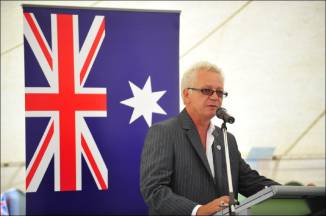 Iva Davies said Australia Day should be a chance for residents to reflect on what makes our country great and what can be improved. The Icehouse frontman was the Campbelltown's 2010 Australia Day ambassador and said it was an opportunity to some of the charity work done in the community.
Mr Davies is best known for the iconic song Great Southern Land by the 1980s group. "In Great Southern Land I described Australia as a hungry home. What I was trying to say was in Australia people make it work with very little,'' he said.
Mr Davies said being an Australia Day ambassador had allowed him to travel across the state over the past nine years. "I'm left with two things. The first is seeing all the amazing charity work that is done about the community,'' he said. "And the citizenship ceremonies are fantastic. There are experiences from that I'll never forget, for example seeing 116 people from 46 different countries become Australian citizens. "It's just good to have a day to stop and think about where you live. The way it works. What it's good points are, what's bad points are and what can be improved.''
Campbelltown Mayor Aaron Rule said the Great Southern Land lyric 'so you look into the land and it will tell you a story, story 'bout a journey ended long ago' could relate to Campbelltown. "Certainly, for the city of Campbelltown the journey - to preserve our past and embrace our future - has only just begun,'' Cr Rule said.
Also from macarthuradvertiser.com.au:
Iva Davies sings our praises
by Alexandra Beech
Icehouse frontman Iva Davies celebrated our great southern land with local residents yesterday at Campbelltown and Ingleburn's Australia Day celebrations.
"It was absolutely wonderful," Mr Davies said of the local events. "I've been to a few very quiet Australia Day functions but this was great and there was a very large number of citizenship candidates."
Mr Davies said his song Great Southern Land played a large part in his selection as Campbelltown's Australia Day ambassador. But he said the inspiration for the song originally came when he was travelling overseas.
"It was the first thing I wrote after our first international tour," Mr Davies said. "I got incredibly homesick and I remember the experience of flying across Australia and going to sleep over the desert and waking up and we were still across the desert. "I was just stricken by the great size of Australia."
The music legend, whose hits include Hey Little Girl, Electric Blue and the iconic Great Southern Land, gave the Australia Day address at Koshigaya Park and Ingleburn Community Centre. "It's quite exciting that by writing a song I could become an Australia Day ambassador," he said in his address in Ingleburn. "I've been encouraging my children to write songs so that they may become prime minister one day."
Mr Davies also spoke about the meaning behind the words `Great southern land, they burn you black, black against the ground', which were inspired by something his father told him about Australia's bushfires. "My father had just come back from fighting fires totally black and he said, `This country really needs fire."' Mr Davies said many of the seeds in the bush require a bush fire to break open and create new life.
Apart from delivering his address, Mr Davies also awarded the citizenship candidates their citizenship certificates with Mayor of Campbelltown Aaron Rule and cut the Australia Day cake.
More photos can be found on the campbelltown.nsw.gov.au site.
23 January 2010
Surprise appearance at Big Day Out in Sydney! Eskimo Joe invited Iva to join them in a fantastic performance of "We Can Get Together" and the crowd loved it!
From sidestage:
A fan's perspective.
A daughter's perspective (that's Brynn in the lower right-hand corner):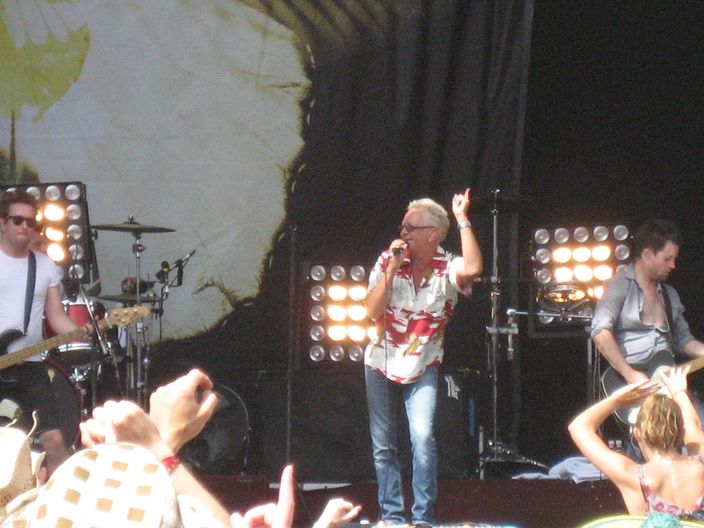 6 January 2010
And more good news! Iva has been chosen as Ambassador of Campbelltown for Australia Day 2010!
From campbelltown.nsw.gov.au:
Iva Davies Campbelltown's 2010 Australia Day Ambassador
Australian music legend, Iva Davies, is this year's Australia Day Ambassador for the City of Campbelltown. Renowned frontman of the popular 80s group, Icehouse, and creator of some of Australia's most distinctive music, Iva will deliver his Australia Day message at Council's Australia Day events at Koshigaya Park, Campbelltown and Hallinan Park, Ingleburn on 26 January.
Mayor of Campbelltown, Cr Aaron Rule, said Iva Davies was a music icon whose work was characteristic of the Australian ethos. "Campbelltown City is delighted that Iva Davies has accepted the role of Ambassador of our Australia Day celebrations," Cr Rule said. "As a pioneer of music technology in this country, and creator of some of Australia's most recognised popular music, I look forward to Iva's Australia Day address and encourage residents to share this unique opportunity."
As a leader and founder of Icehouse, Iva achieved national and international success over a period of 20 years, with classic hits such as Hey Little Girl, Electric Blue and the iconic Great Southern Land. With a background in classical music, including as an oboist, pianist and composer, Iva's broad musical accomplishments include scores to the internationally acclaimed Sydney Dance Company's two most successful ballets Boxes and Berlin, and the highly acclaimed song Circles in the Sky, which was chosen as an official Sydney 2000 Olympic theme. Iva's award-winning Master and Commander film score emanated from his piece, The Ghost of Time, which was commissioned as the centrepiece of the Sydney Millennium celebrations. In addition, Iva was awarded for the two-hour film score for the AFI-winning movie, The Incredible Journey of Mary Bryant. In 2006, Iva was inducted into the ARIA Hall of Fame for achievement in music.
Iva Davies will give his Australia Day address at Koshigaya Park, Campbelltown at 8.23am, and at Ingleburn Community Centre at 11.11am.